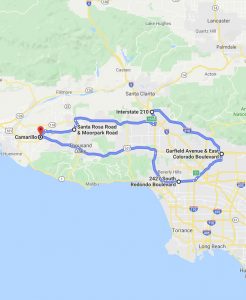 Canyon and urban driving are the two primary themes of my long drives when I teach a teen to drive. I find that I can mix-in other important driving concepts, such as freeway driving, within these themes.
We've already completed two other urban drives in my teaching a teen to drive series. For drive #8, we're going to do our Urban Driving Final Exam. It will be a mix of congested city streets and freeways. We'll be navigating the busiest and most challenging freeways around Los Angeles – the CA-110 from Pasadena through downtown LA, the Santa Monica Freeway through the Westside, the 405 over the Sepulveda Pass, and the US-101 through the San Fernando Valley.
If you're just joining us, here are the other drives we've covered so far in this series:
We're going to start this drive at the Camarillo train station. We'll take a right out of the parking lot onto CA-34, Lewis Road. We'll make a right on Upland, and then make a left onto Santa Rosa Road. Once we hit Moorpark Road, we'll make a left, then make the right onto Tierra Rejada Road. We're going to take CA-23 North, which turns into the CA-118. We'll follow that across Simi Valley and through the north end of the San Fernando Valley. When we get to I-210, we'll take it east into Pasadena. Once we get to Pasadena, we're going to exit at Colorado Boulevard, and then freelance our way around Pasadena. Since it's been a long drive to this point, I recommend parking and finding a place to grab a refreshment and a light bite to eat.
When we resume, we're going to navigate to the CA-110. We'll take it south towards downtown Los Angeles. The CA-110 will be one of the most challenging freeways you'll drive. It's narrow, the on and off ramps are short, it's congested, and you have to pay attention to the signage, especially when you get close to downtown. We're going to navigate through the heart of downtown Los Angeles and then catch the I-10 going west towards Santa Monica. The congested freeway driving continues across the Westside of LA. We'll stay on the I-10 until we hit the I-405, which we'll take north over the Sepulveda Pass to the US-101 North, or West depending on your perspective. We'll follow the US-101 across the San Fernando and Conejo Valleys back to the Camarillo train station.
The drive covers 135 miles and, depending on traffic, can take anywhere from 3 to 3.5 hours, or more. Since this is a long drive, I strongly recommend making a stop in Pasadena to rest. The most challenging portion of the drive will be leaving Pasadena and traveling through downtown Los Angeles. You want to make sure that both you and the teen driver will be awake and alert during this portion of the drive.
Here are a few notes for this drive:
When stopping in Pasadena, stop in the Old Town section. There are plenty of restaurants and shops that will make for a good break. It will give both you and the teen driver a chance to recharge for the second half of the drive.
I like taking the drive in the mid-afternoon or later. It makes the drive a little more challenging as the traffic congestion will be heavier, especially on the freeways in and around downtown Los Angeles. The whole point of this drive is to teach the new driver how to navigate through congested urban areas, so I would encourage you to embrace the challenge. The caveat is making sure that you can complete the drive while it is still daylight. I wouldn't over complicate things with night driving.
As the instructor, you'll want to be alert during this drive, especially on the congested freeways around downtown Los Angeles. You'll want, and need to be more vocal and do a bit more coaching during this drive compared to the others. Since stop-and-go traffic can come up quickly on the freeways, you'll want to coach the driver to make sure they know how to be aware of and spot upcoming traffic congestion.
The CA-110 in Pasadena is one of the oldest freeways around Los Angeles. The lanes are narrow. The on and off ramps are short, so merging traffic will come up to speed lower than you normally expect. If you haven't been on the CA-110, or if it's been a while, be prepared. It can catch you off guard if you're not expecting it.
Here's the interactive Google Map for this drive. I picked an arbitrary point in Pasadena for the drive. You can freelance your way around Pasadena. I would suggest finding a parking garage in the Old Town area and stopping there. You should have no problem finding a place to sit down and grab something to eat.
Next up – Open Road, The Final Exam