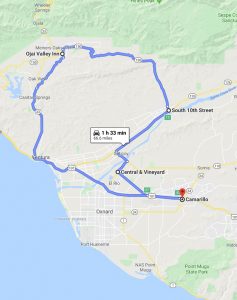 If you've been following along, you know that I like to use the canyons to teach a teen how to drive. There's so much one can learn in the canyons about handling a car and how it responds to braking and accelerating. These skills come in handy and can be applied in a variety of driving conditions.
In addition to canyon driving, freeway driving is also an essential skill to teach a teen driver, especially if you live in Southern California. Freeways are integral of getting around the area.
So for this drive, which is the halfway point in my series on Teaching a Teen to Drive, we're going to combine the two into one drive.
If you need to catch up before moving on, here's the overview, introduction, and first four drives from this series:
We're going to use the Camarillo train station as the anchor point for this drive. We're going to leave the north end of the parking lot, head straight up Daly Drive and make the left onto the US-101. Follow the US-101 to Central Avenue, and then work our way through El Rio and Saticoy to get to CA-126. We'll follow CA-126 to Santa Paula and get off at 10th Street, and make a left to go through town. After a short drive through town, we're going to take CA-150 through the canyons into Ojai. This canyon drive is going to be one of the more challenging because the road is narrow in many places, there are lots of tight turns, and there are significant changes in elevation. I'd make sure to have taken at least one, if not both of the earlier canyon drives.
Once we get into Ojai, I usually stop for a rest. The canyon drive is challenging, so I like to catch our breath before heading back. By the way, if you're planning to grab lunch during your break, my favorite spot is Jimmy's Pub at the Ojai Valley Inn, but there are many great places to eat in Ojai. After lunch, we continue on CA-150 where it will merge and turn into CA-33. Then we follow that back to the US-101 and return to the Camarillo train station. The last portion of this drive is mostly freeway driving once you get through Ojai, and the small towns of Oak View and Casitas Springs, If Casitas Springs sounds familiar, it was made famous by Johnny Cash – he lived there from 1961-1967.
Overall, the drive will take between 1.5 and 1.75 hours and cover between 65-70 miles. You could do the drive all in one shot, but I like to make a stop in Ojai. If you make the stop, you should budget closer to 3 hours for the drive.
Here are a few additional notes for the drive:
This drive is best done on a weekend in the late morning. I like to get into Ojai between 12 and 2. It makes it a great time to stop for lunch, but it also exposes the teen driver to some light urban driving conditions through Ojai. Ojai can get very busy on the weekends. Traffic can get congested, and the teen driver will have to be alert for pedestrians and cyclists through town. It makes for some great learning (and teaching) moments.
The key for this drive is to find some challenging, narrow two lane roads that have tight bends and corners in them. If you don't follow this route, the roads you use should be one of the more challenging canyon or windy roads in your area.
The lead-in and lead-out, as with any canyon drive, are important. They should be low stress environments and be around 20-30 minutes in length. You want the teen driver to be calm and confident heading into the canyons, and you want them to enjoy a relaxing conclusion to the drive. It will help them look forward to the next long drive.
Here's an interactive Google Map which follows the route I take.
Next up: Canyon Driving – The Final Exam