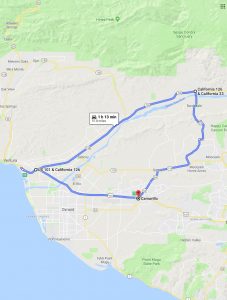 Teaching a teen driver how to handle a car on narrow roads and around tight corners is a foundation driving skill in my opinion. It gives the new driver a good feel for how the car responds in demanding driving conditions. It's why I like to spend a lot of time in the canyons of Southern California during my longer teaching drives.
For this drive, we are going to explore a canyon drive that is a little longer, and a bit tighter. I would recommend that the teen driver has some canyon driving experience before embarking on this drive. You may want to complete the drive outlined in Canyon Driving, Part 1, or an equivalent drive first.
Freeway driving makes up a significant portion of this drive as well. Both the canyon and freeway driving will be important skill for later drives in this series.
You can see a list of all the drives (and articles) in this series by clicking here.
For this drive, we will use the Camarillo train station as our anchor point. The drive starts by taking a right out of the parking lot and following CA-34 through Somis to CA-118. We take a right onto CA-118 and follow it to Grimes Canyon, which is just pass the railroad crossing on CA-118. We make a left onto Grimes Canyon, follow it to Broadway, make a right, and then a left onto CA-23. Grimes Canyon is narrow with a couple of tight turns, but the real canyon experience happens when you crest the hill on CA-23 and head over the pass down into Fillmore. Once you get into Fillmore, you will reach the intersection with CA-126, where you will make a left to head into Ventura. CA-126 starts out as an open access road but transitions to a freeway as you get into Santa Paula. Once you reach the end of CA-126, you will transition to the US-101 South and continue back to the starting point in Camarillo.
Overall, you can expect this drive to take between 75-90 minutes covering just under 60 miles. It takes about the same amount of time as the route in Canyon Driving, Part 1, but this drive is longer in distance because of the freeway component. You will spend about half the time driving in the canyons, and half the time driving on the freeway.
Here are a couple of notes for this drive:
I normally teach this drive on the weekend. I will go in either the late morning on a Saturday or Sunday, or early afternoon on Saturday. The key is to pick a time when you and the teen driver are alert. I avoid the late Sunday afternoon time frame when the 101 can get congested with weekend traffic. Since the teen driver is still learning freeway driving skills, I want to focus on building confidence at this stage. We will get into congested freeway driving in upcoming drives.
This is another one shot drive with no stops. You could stop for a coffee or lunch break in Fillmore since that is the halfway point. It depends on how the drive is going and whether there are any teaching points you want to review from the canyon portion in a more relaxed atmosphere. It's easier for one to concentrate on feedback when they are not behind the wheel.
In the absence of a canyon road, narrow, windy two lane roads are a good substitute.
The key to this drive is to spend about half of it in the canyons and half of it on the freeway. Getting the freeway driving experience is going to be important for upcoming drives.
Here's the interactive embed from Google Maps to give you a better feel for time and distance:
At this point, if you've been following along, we're three drives in to the nine drives that I use for teaching a teen to drive. Here are links to the first two in the series:
Next up: Urban Driving, Part 1