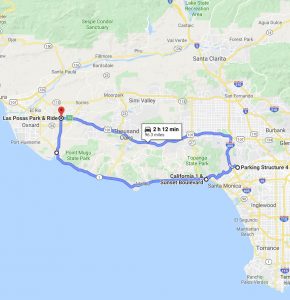 There is a progression that I go through when I teach a teen to drive. Basic vehicle operations are the first principle. Then I move on to open road driving which helps build self-confidence in their ability to handle a car. Next comes canyon drives that teach the new driver how to handle and respond to the car. And then I teach freeway driving.
Once we're through all of those, I move onto to one of the tougher concepts – urban driving. Urban driving entails driving on crowded city streets and freeways. One has to deal with distractions, pedestrians, cyclists, unprotected turns, and erratic, impatient city drivers. I wait to teach this skill because it can be unsettling for a new driver and rattle them. If done too soon, it can kill their self-confidence and make them want to quit. I've seen it happen. It's why having a plan that progressively builds the driver's skills and confidence is important.
If you've been following along, you'll see that this is the fifth lesson in my series on teaching a teen to drive (not including the overview), and the fourth of my extended drives. Here are the earlier posts if you want to catch up first before moving on:
For this drive, the starting point is the Park & Ride off of the US-101 at Las Posas Road in Camarillo. We head left from the parking lot, south on Las Posas Road to CA-1, aka Pacific Coast Highway. The first part of this drive is open road driving until we get south of Mailbu Canyon Road. Then PCH starts to narrow, and the traffic gets more congested. We stay on PCH until Sunset Bloulevard, and then make a left up the hill. We follow Sunset through the Palisades, Brentwood, and Westside until we get to UCLA. Sunset is narrow, windy, congested, and has plenty of lights. Given the length of the drive to UCLA, I stop at Parking Structure 4 on the UCLA campus, which has plenty of visitor parking spots. It's a good place to get out, walk around campus, grab a snack at the UCLA Student Union, and review the drive to this point. There's a good chance there will be moments you'll want to review and learn from.
After the break at UCLA, we make a left from Wetwood Plaza onto Sunset Boulevard heading back to the 405. From here, we're going to take the freeways back. While this could be considered straight freeway driving, I consider it urban freeway driving because of the traffic density heading through the Westside, over the Sepulveda Pass, and along the 101 through the San Fernando Valley. Once we get to Calabasas it turns into Freeway Driving for the last 25-30 minutes of the drive before returning to the Las Posas Park & Ride.
This is one of the longer drives. It covers approximately 100 miles and almost 2.5 hours of driving time. With the stop at UCLA, I usually budget 3.5 – 4 hours for this drive.
Here are the notes for this drive:
I usually like to do this drive late Saturday morning or early Saturday afternoon. There's a lot of recreational activity on PCH, especially south of Malibu Canyon Road that make for great teaching moments. I also time the drive so we're stopping at UCLA around the lunch or dinner hour and leave time for exploring campus while we're there.
I'm not going to sugar coat it, the drive can be stressful. As the instructor, you need to maintain your composure and calmly point out items along the way that the teen driver needs to be mindful of. Bear in mind the teen driver will likely be tense given the traffic conditions and distractions. You need to do your best to stay calm and not add additional stress to the drive.
The key to this drive is the 'entry' and the 'exit.' In other words, I like to have an open road or light freeway drive before entering the urban drive, and a finish with an open road or light freeway drive. It builds confidence going in, and restores it coming out of the drive.
Here's the interactive Google Map which may have a few differences from the static map above. The big item is to make the left onto Sunset Boulevard and follow it to UCLA. Don't take the shortcut on the freeway that Google recommends.
Next up: Freeway Driving – Part 2, and Canyon Driving – Part 3