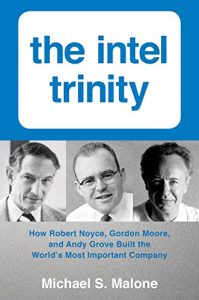 I started my career working in the semiconductor industry back in the early 90's. By that time, Intel had firmly established itself as the leader in the microprocessor space. They were in the process of moving their 486 to mainstream production. In fact, the first personal computer I purchased had a 486 processor that operated at a blazing 20MHz.
Being inside the industry, I was generally in awe of Intel. They were on the cutting edge of semiconductor development. They were the creator and keeper of Moore's Law, which stated the number of transistors on a computer chip would double every two years. It was a law which drove Intel for over 50 years.
Given my history in the industry, and on the recommendation of a good friend and a trusted recommendation source (Brad Feld's blog), The Intel Trinity: How Robert Noyce, Gordon Moore, and Andy Grove Built the World's Most Important Company by Michael S. Malone felt like an interesting book to read. I've read quite a few biographical business books, but never one that was directly related to industry I was involved in. That reason alone had me eager to learn more about how the most influential company in the semiconductor industry came to be.