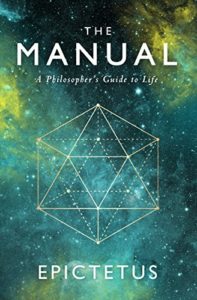 For most of my life, I had no interest in studying philosophy. Studying philosophy evoked images of college professors wearing corduroy jackets with elbow patches, smoking pipes, sitting around contemplating the meaning of life. The subject felt way too theoretical for me. I was always interested in the subjects of math and science where you were presented with problems and challenged to find the answers.
My attitude toward philosophy changed two years ago when I was encouraged to read The Daily Stoic by Ryan Holliday and Stephen Hanselman. Seeing how the writings of philosophers who lived 2,000 years ago were just as applicable today fascinated me. I learned a lot exploring each of the daily readings and was interested in learning more about Stoicism.
My interest has led me to start exploring more direct interpretations of the ancient philosophical writings of Marcus Aurelius, Epictetus, Seneca, and others. One of my first explorations was The Manual: A Philosopher's Guide to Life, originally written by Epictetus. I read a translation that was compiled by Sam Torode, who also wrote a modern translation of the James Allen classic As a Man Thinketh.
Continue reading