This is the third post of my personal experience with diet modification after reading books such as Wheat Belly, Grain Brain, Primal Body – Primal Mind, and It Starts with Food. The other posts are Food as Medicine and Weight, it's all about food, which you can read here and here. As mentioned in a previous post, this post is not medical advice. It is simply my personal experience which you may (or may not) find interesting.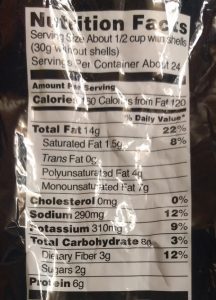 As part of my effort to eat healthier, cutting added sugars out of my diet was at the top of my priority list. Little did I know just how difficult this would be. I quickly learned that you had to be careful with anything processed, in a box, or sealed in a bag. When you buy something in that form factor, the question isn't whether it has sugar. The question is how much.
Here's just one recent example that shocked me. To change up my routine and add some spice to my pistachio habit, I wanted to give salt & black pepper pistachios a try. When I saw them at Costco, I couldn't resist and grabbed a bag. Midway through my first serving, something seemed…, well, off. In addition to the pepper seasoning, I was detecting a bit of a sweetness. I didn't think much of it, but decided to check the ingredients. Bingo! Sugar. Now granted, it was pretty far down the ingredient list, and it wasn't a lot. But we're talking about pistachios. Why is there any sugar added?
As it so happens, this is just one example of many.