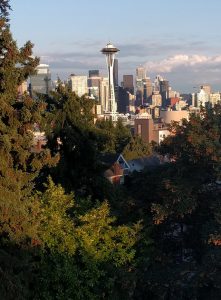 Those who know me know that I like Seattle. I had wanted to go there for the longest time, and my first visit a couple of years ago exceeded my expectations. So when my daughter Courtney landed an internship in the city for the summer, I immediately knew what I would be doing – visiting her!
I've made a couple of trips there recently, and it gets better each time. I've had more time to explore and search out those places that are hidden gems. Just like my first visit, I haven't been disappointed in what I've found.
As luck would have it, I discovered over the last year that I'm a "foodie". Don't ask how. That's a post for a different time. But being a foodie means I can get picky about where and what I eat. Fortunately, Seattle does not lack for good places. As part of my exploring, I've discovered that Seattle takes two particular food items very seriously – ice cream and coffee, which is fine by me. It just so happens these are two of my favorite indulgences. Give me good ice cream and good coffee, and I'm a happy camper. Give me both, and I'm in heaven.
If you're heading to Seattle, here's my go-to list of places to try out. If you live in the area, I'd love to hear your opinion and any recommendations you might have for my next visit.