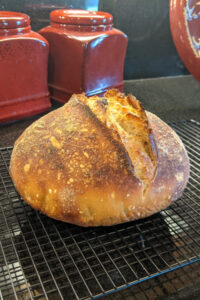 I started baking bread about a year ago. At that time, I had pretty much cut bread out of my diet. I was convinced carbs were the enemy. But if that was indeed the case, carbs being the enemy, how come humans have been eating bread for thousands of years without adverse affects?
Then it hit me, maybe it had to do with the "modernization" of the process. If I could control the ingredients and the process, then maybe I could return to eating bread.
It's amazing how simple the bread baking process is, yet how complex the outcomes are. A video I watched recently had a great quote about bread making that sums up the concept. A baker explained what captivated him about the process in four words:
"Four ingredients, infinite possibilities."
Yes, that's right, four simple ingredients – flour, water, salt, and yeast – can produce an endless number of results.
Continue reading