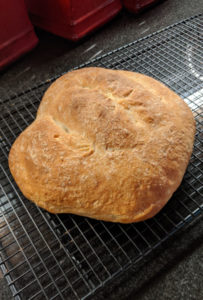 For the last three years, I've significantly reduced my carbohydrate intake. More specifically, I've eaten a lot less wheat-based carbohydrates, which significantly reduced my bread consumption. My diet changed from eating 3-4 servings of bread per day to 3-4 servings every month or so. So instead of eating carbohydrates, I've consumed a lot more protein and natural fats such as nuts.
My motivation came from what I read in Wheat Belly, Grain Brain, Primal Body – Primal Mind, and It Starts with Food. My desire to get my weight below 160 pounds was also a significant factor. While I've adjusted to the diet and don't necessarily miss bread, I decided it was time for a change. Variety is the spice of life, right?
I decided to take the bold move of adding bread back into my diet, but under one condition. It couldn't be any bread. I wanted to bake it on my own so I could control the ingredients being used. I didn't want to pollute my body with all the ingredients found in a store-bought loaf of bread that I either don't know or can't pronounce.
Continue reading