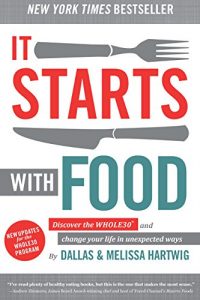 One of my reading themes is health and fitness. And why not? What we do and eat on a daily basis has a huge impact on our quality of life. It affects how we feel, energy levels, quality of sleep and more.
My latest read in this genre was recommended by my sister Tricia, who has become more aware of and interested in learning how food affects health. She suggested that I read It Starts With Food by Dallas & Melissa Hartwig.
Given how much I got out of Wheat Belly and Grain Brain, adding It Starts With Food to my reading list was a no brainer. I was interested in seeing what other nutrition tips and ideas I could pick up from another source.