I've been going to Las Vegas on a regular basis for almost 30 years. Up until the last few years, I spent nearly all of my time on The Strip. There is so much to do on that stretch of road that you can easily overlook the fact that Las Vegas is a major metropolitan area with over 2 million residents. Considering this reality, I figured there had to be plenty of things to do that were not on The Strip. I was certain that those who make their home in Vegas don't spend all their time under the lights and at the tables.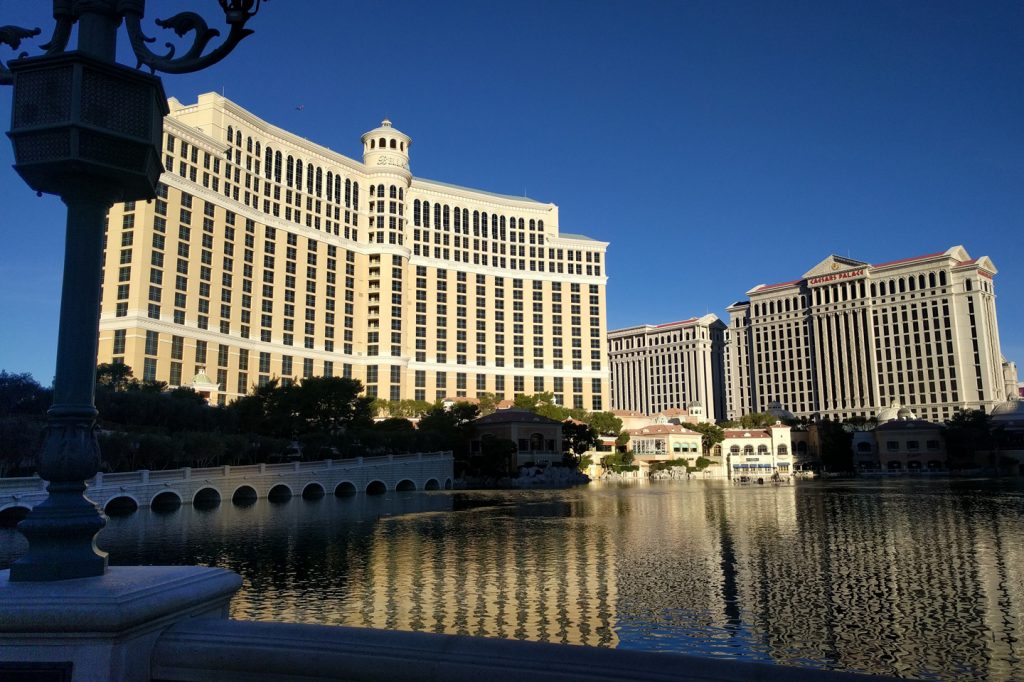 So over the last few years, I've researched and explored food, coffee, and recreation options that aren't on Las Vegas Boulevard. As of 2023, here's a collection of some of the best places I've found that are worth the trip off The Strip.
Restaurants
Trattoria Italia – Henderson (website / map)
There's no shortage of Italian restaurants in the Vegas area, but Trattoria Italia has become a favorite of Lisa's and mine. It's located in a nondescript strip mall, but don't let the location fool you. The menu is solid from top to bottom, the in-house desserts are top shelf (make sure to save room), and the wine list is great. It's every bit as good as the Italian restaurants you'll find on The Strip, and then some. Best of all, it won't cost you nearly as much.
Honey Salt – Summerlin (website / map)
Honey Salt is a hidden gem located in Summerlin's Rampart Commons. Thus far, I've only had a weekend brunch there, which was outstanding. On one of my future trips, I'd like to get out here to try their dinner menu.
Herbs & Rye – West Sahara Ave (website / map)
When I pulled up to Herbs & Rye, I wasn't sure what to expect. I was told that it was an elegant steakhouse, but it certainly didn't look like it from the outside. Set in a strip mall next to a gas station with a poorly marked entrance, I was a bit nervous. Then I opened the door. Instantly, I was transported into a classic steakhouse environment. Great cocktails? Check. Great steaks? Check. Great dessert? Check. Great bar? Check. Herbs & Rye checks all the boxes. Beware that it can be hard to get into, so if you plan to go there, make sure you book your reservation weeks in advance. And one last thing, it's only a couple of miles west of The Strip, so it's a short (meaning not expensive) taxi or Uber ride if you don't have a car with you.
Carson Kitchen – Downtown (website / map)
Carson Kitchen is one of many eateries that are breathing new life into the Downtown area of Las Vegas. The menu is full of interesting ingredient combinations, and it has a bit of a farm-to-table vibe to it without going over the top. It's located just east outside of The Fremont Street Experience, and it can get a bit busy in the evenings. Be sure to grab a reservation, or call before going in case they are hosting a private party.
Makers & Finders – Arts District (website / map)
Makers & Finders has a couple of locations in the Vegas area, but I prefer their location in the Arts District. The Arts District is that in-between area between The Strip and Downtown that has an eclectic mix of restaurants, coffee shops, and retail. I originally stumbled upon Makers looking for good coffee, which they have, but I enjoy their food options more. They self-classify their brunch menu as Latin Comfort Food, so it's a great option if you enjoy a little spice in your life. They also have a full cocktail bar if you're looking to start your day off on the other foot. As a wise person once told me, "You can't drink all day if you don't start in the morning!"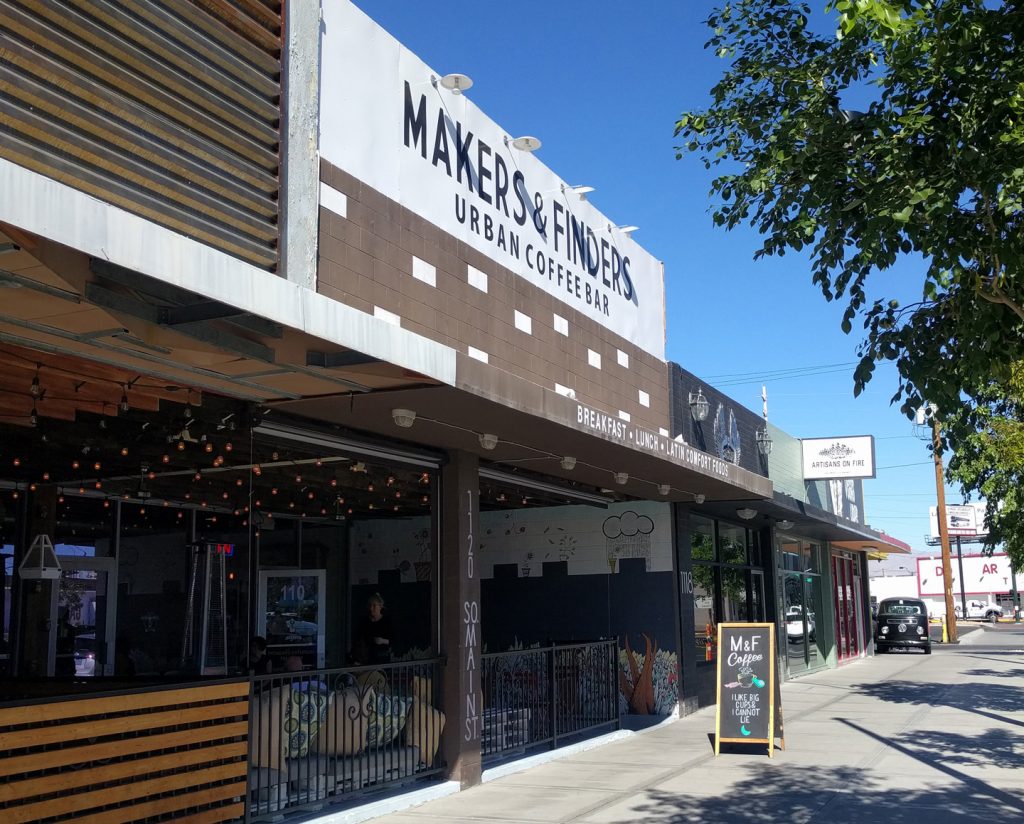 Leoné Café – Summerlin (website / map)
Located in Summerlin's Tivoli Village, Leoné Café is a classic European-style café. You queue up and order at the counter, and then proceed to find an empty table. They have ample seating both inside and outside. It was very busy when Lisa and I had brunch there, but we had no problem finding a table. The food is good, the portions are generous, the coffee is strong, and the ambiance is lively. Plus, being in Tivoli Village, there's plenty to see and do after you finish your meal.
---
Coffee
Vesta Coffee Roasters – Arts District (website / map)
My go-to place for coffee in Vegas has become Vesta Coffee Roasters. They have multiple locations, but I enjoy visiting their location in the Arts District. They take their coffee seriously, putting time and effort into each cup. Every pour over I've had there has been outstanding. Lisa's espresso drinks have been just as good, and she raves about their almond croissant.
Gäbi Coffee & Bakery – Spring Valley (website / map)
For ambiance, I have not been to a better coffee shop than Gäbi Coffee & Bakery. It can be a tough place to find because it sits in a strip mall on Spring Mountain Road and lacks distinctive signage. The first time I went there, I circled the parking lot a couple of times before I realized it was right in front of me the whole time. Pro tip: the large wooden door will alert you that you're in the right place. When you open it, you'll feel like you've been transported into another dimension – kind of like Alice falling down the rabbit hole. My only disappointment is that they stopped serving pour over coffee, but they have a long list of espresso options to make up for it. They also have excellent pastries and and a great short order food service consisting of light breakfast and sandwich options.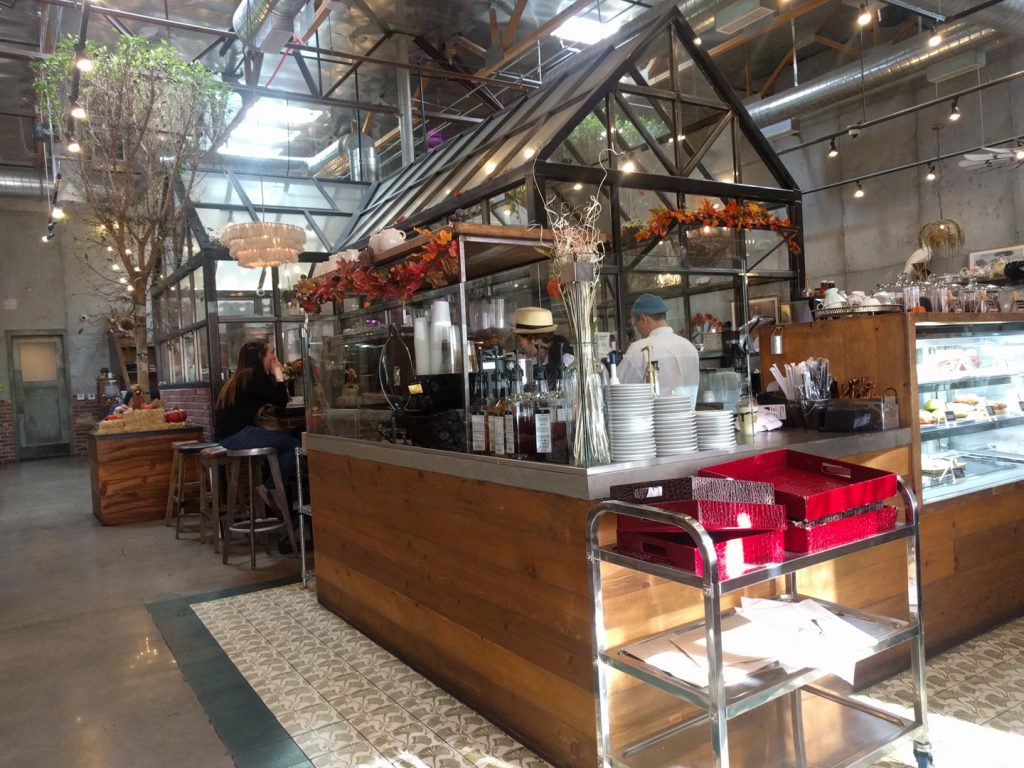 Dark Moon Coffee Roasters – Henderson (website / map)
When the roaster at Vesta tells you that you need to go to a place called Dark Moon for coffee, there's only one thing to do – go there! The only downside of Dark Moon is that is well off the beaten path. Let's call it a trek, but at the end of your journey, you will be handsomely rewarded. Just know that they do not offer food. It is a coffee place, pure and simple. it you are a true coffee aficionado, put Dark Moon at the top of your list of places to visit.
Mothership Coffee Roasters – Henderson (website / map)
In what seems to be a recurring theme with my Off Strip haunts, I had a hard time finding Mothership the first time I visited. Google Maps couldn't seem to guide me in to the parking lot the right way. It's actually not that hard to find as it sits next to the Trader Joe's in the Green Valley Plaza & Shops strip mall. Upon arrival, they lived up to their website tagline, "Coffee Is Our Art." Worth the effort to find if you're out and about in the Green Valley area of Las Vegas.
Sunrise Coffee House – Paradise (website / map)
Affiliated with Mothership Coffee Roasters, Sunrise Coffee House sits just east of the airport on NV 562. It's a small coffee shop, but they do an excellent job with both the coffee and the food options. I would highly recommend it as a go-to place to grab a light breakfast and great cup of coffee to get your day started. For a true Vegas experience, you can swing by and take a peek at Wayne Newton's Casa de Shenandoah afterwards, which is located just across the street.
---
Recreational Activities
Ethel M Chocolate Factory & Cactus Garden – Henderson (website / map)
Yes, Ethel M Chocolates is owned by Mars, makers of Milky Way, Snickers, and M&M candies among other things, and that is where the similarity ends. Ethel M is a specialty chocolate manufacturer that makes small batch chocolates, specializing in truffles. It's a chocolate lover's delight, and the chocolate + wine taste pairing experience is a must. I wasn't aware that you could mix a chocolate candy with a wine to make it taste like you've just eaten a PB & J sandwich. By the way, if you're keeping score at home, you can mark down that I consider chocolate tasting a recreational activity, and a serious one at that!
Red Rock Canyon (website / map)
Some talk about Hoover Dam being the site to see outside of Las Vegas, but I would recommend Red Rock Canyon over the dam. Sure, Hoover Dam is a majestic site, but it's man made. Nothing beats the majestic beauty of nature, and Red Rock is chock full of it. There's also a lot of hiking options available, although I would caution that hiking the canyon is for experienced hikers. From March through October it can be dangerously hot with a lingering threat of thunderstorms that can turn dry river beds into raging rapids within minutes. For those less adventurous, there's a drive around the canyon that has magnificent vistas looking down towards the Las Vegas strip.

---
I expect to continue visiting Las Vegas on a regular basis, and I am going to continue looking for more places and things-to-do that are Off The Strip to add to this list. If there are any you feel are worth checking out, feel free to leave a comment. Thanks!