I moved to Southern California almost 25 years ago. Shortly after my arrival, I watched the movie Singles. It's about a group of twenty-somethings living in Seattle and starred younger versions of Bridget Fonda, Kyra Sedgwick, and Matt Dillon. It was right around the time that the rock bands Nirvana and Pearl Jam were reaching their peak, and the grunge scene was all the rage. It was a great movie that I related to at the time, and the movie soundtrack, which featured Pearl Jam, Alice in Chains, Soundgarden, Sreaming Trees, and The Smashing Pumpkins, was awesome (I still have the CD somewhere, I think).
After watching the movie, I had a burning desire to visit the city of Seattle. It seemed like such a cool place from the movie, and everyone I talked to reinforced my view. I had planned to visit, but life got in the way. I got busy with work, then with a family, and then started doing heavy travel for my job. My travel took me all over the world – Boston, Chicago, San Francisco, New York City, Washington DC, Tokyo, Shanghai, Paris, Munich, Hong Kong, Sydney – but Seattle remained an elusive destination at the top of my list of places I wanted to visit.
Finally, after nearly 25 years of waiting, I got to visit last November with my second daughter Courtney during a visit to the University of Washington. Courtney set up plans to see the school on a Monday, so we left a day early and spent Sunday touring the city. I wasn't sure what to expect and was concerned that I would be let down. I wasn't. It was awesome. We saw a lot with our one day (or so) in the city. Here's a sampling of what we did.
Pike Place Market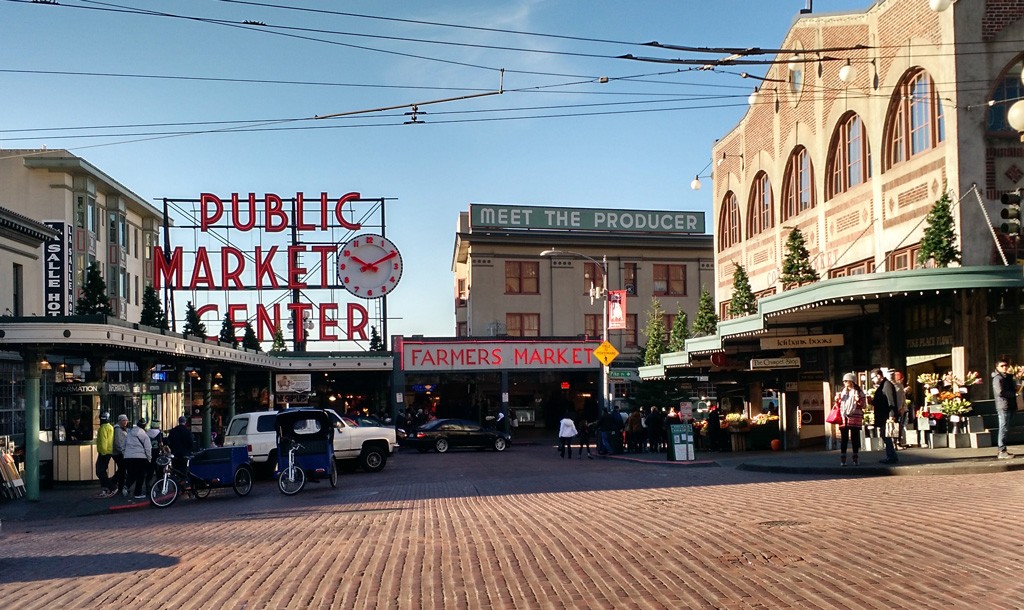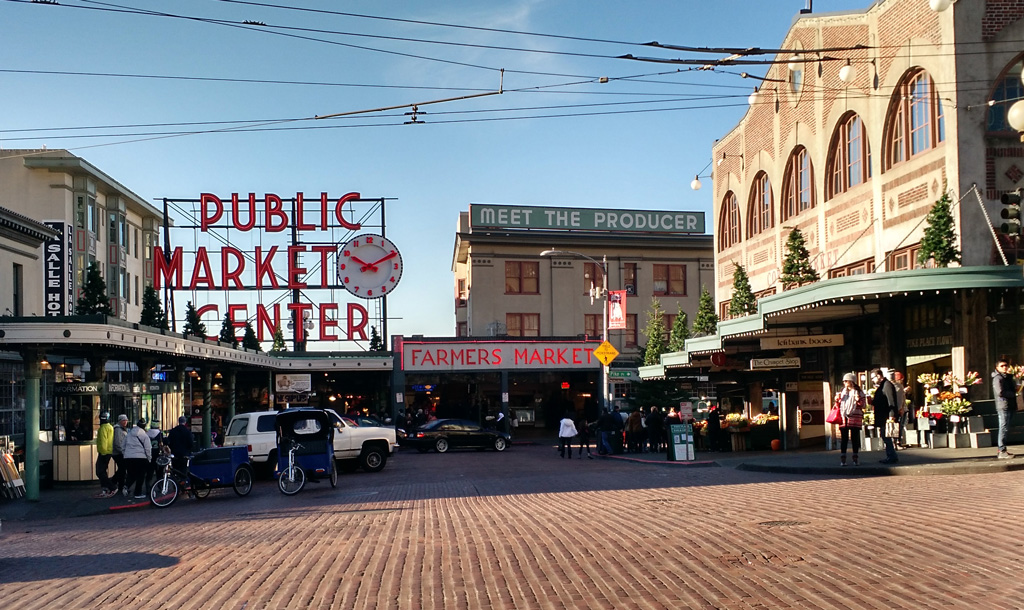 It might seem a bit touristy, but our first stop was Pike Place Market. It's a must see for anyone's first visit to Seattle, and I would return again. It's a farmer's market that has numerous stalls selling produce, crafts, meats, and, best of all, fresh seafood. There are also plenty of restaurants scattered throughout the market as well. We didn't stop to eat, but we did plenty of browsing.
My favorite place was the Pike Place Fish Market. Everyone who worked there was very friendly, and you can tell that they were used to dealing with tourists, and even enjoyed it. Besides doing their job well, they also put on quite a show tossing fish back-and-forth, and they even had some fun with their signage as you can see in the picture below.
Be sure to hang around long enough to catch them performing a "price check".
Space Needle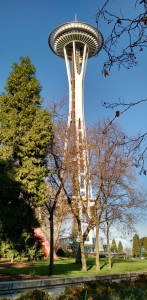 Ok, we decided to hit the other big tourist attaction – The Space Needle. It wasn't at the top of my list before we arrived, but it was well worth the trip, especially since it was a clear day by Seattle standards. I found the ticket price to be quite reasonable, and from the top you get a great view of the city, the surrounding surburbs, and the mountains surrounding the city.
They also do a really good job enhancing the experience. You get a photo taken against a green screen before you ride the elevators to the top. Once at the top, you get to select your image against a variety of backdrops featuring views of the city from the Space Needle. They make it super easy to share the pictures and/or email them to yourself. It's soooo much better than getting the picture taken and then having to pay the outrageous fees for the hard copy. Also, the elevator operators are very knowledgeable. On both the way up and down, they did a great job discussing the history of the needle and giving you a little background on the city. In other words, they do a good job with the visit all the way around.
Here's one of the backgrounds that I chose to send to myself of Courtney and me: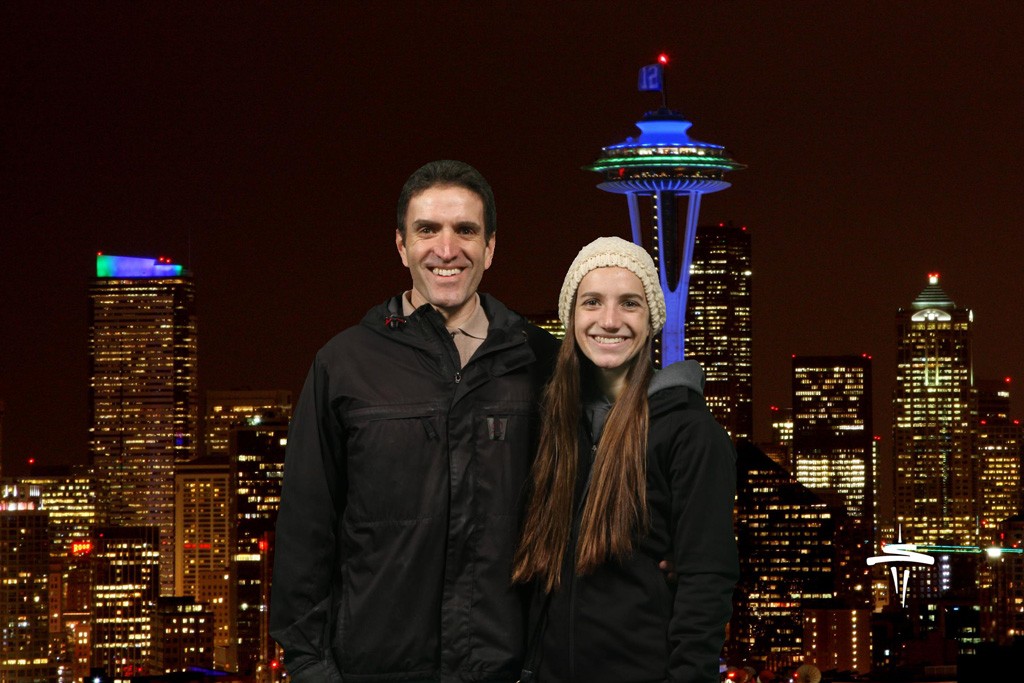 I also got a great shot of the city with Mt. Ranier in the background from the top of the Space Needle. As you can see, it was a clear day, which made for great viewing, even if it was just a touch on the chilly side for late November.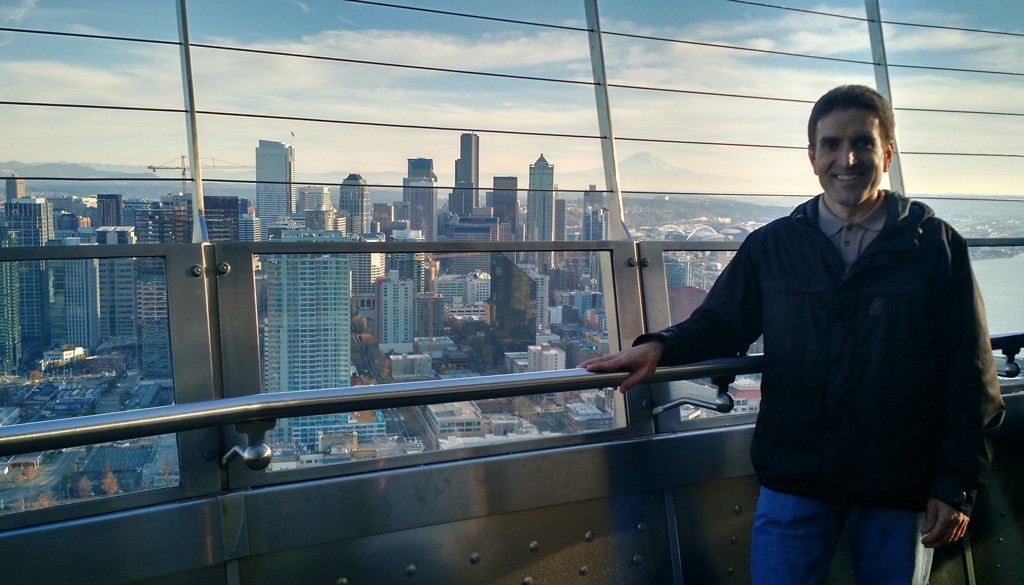 Seattle Waterfront
Of the many tourist areas we visited, the Waterfront was the only one that was a bit of a disappointment. It appeared to be under construction and was a bit hard to navigate. There were a number of restaurants, but it's not high on my list of places to visit again.
University of Washington
The main purpose of our visit was to check out the University of Washington, or "U-Dub" as most of the locals refer to it. Even if you're not into college campuses, a quick trip to UW may be worth the effort. I was surprised at how close it is to the city being it was about a 10-15 minute drive north on I-5. If you do happen to head out there, make sure to check out the library and make a stop to the "Harry Potter" room. It's quite impressive.
Restaurants and Coffee Shops
Here are the places we tried out while we were in Seattle. I wasn't disappointed by any of them.
---
Needless to say, I thoroughly enjoyed my first visit to Seattle. I loved the vibe of the city and enjoyed exploring it. I'm looking forward to going back. My only regret was waiting so long to make my first trip there. I should have done it years ago. Oh, well. Hopefully, it won't be another 25 years before I make it back!