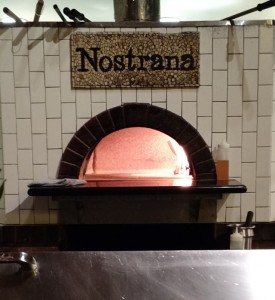 I'll admit I have an affinity for the Northwest. Maybe it's because I just get to visit occasionally and don't have to live there and survive the rainy season. I thoroughly enjoyed visiting Seattle, and I've always enjoyed spending time in Portland. I used to manage an office in the Lake Oswego area back in the day with Vitesse Semiconductor, The folks in the office took me to some great places around the Portland area. On a trip to the Northwest with my daughter Courtney last year, we made the drive from Seattle to Eugene. Since I had to pass through Portland, I figured we'd make a stop there for dinner.
I did a quick online search, and the restaurant Nostrana appeared to be an interesting place with a good mix of food on their menu that would appeal to both of us. I also liked the fact that their menu was built around fresh food, much of it locally sourced. I decided we would venture into the city to make the stop even though it was a bit off of I-5 on our way through town.
What a pleasant surprise it was.
I'm not exactly sure what I expected, but whatever expectations I had were blown away. First, Nostrana's is in a non-descript part of town. It's easy to miss as it sits in the corner of a small strip mall. The give away that we had stumbled on to something special was the crowded parking lot, which must have all been for the restaurant since the other businesses were closed.
Second, we stopped by on Monday night, and the place was packed. I chose to show up without a reservation because I didn't think we would need one on a Monday night, especially one that was abnormally cold but typically rainy by Northwest standards. It almost turned out to be a big mistake, but they were able to seat us in front of their wood-fired pizza oven (pictured above).
Third, their wait staff was awesome. They were friendly and very helpful. The waitress encouraged me to try their fresh Idaho trout paired with a white wine. Little did she know the risk she was taking as I am not a big fan of trout or white wine, but I decided to give it a go. Well, she was right. The meal and wine pairing was awesome. My daughter also thoroughly enjoyed the pasta dish she had. Needless to say, the meal was a success.
So the next time you are visiting or passing through the Portland area, make it a point to stop by Nostrana. You won't be disappointed. Just don't do what I did. Be sure to call ahead and make a reservation.