Inevitably, whether for business or pleasure, I end up visiting the city of San Francisco at least 2-3 times a year. While I'm not the biggest fan of Northern California, I love the city. The sites, the history, the restaurants, the hiking – it has it all.
Like most big cities, San Franciscans take their coffee seriously, which I appreciate and enjoy. I'm always adding a place or two to my rotation of favorite coffee shops when I'm in town.
This past visit was no exception. I found two more places that are sure to be regulars in my San Francisco coffee rotation.
2340 Polk Street (map)
Saint Frank has a couple of locations in Northern California. I stumbled across the one in Russian Hill. The decor is modern, the staff is knowledgeable and friendly, and the coffee is outstanding. They roast their own beans, which was evident in the taste of my pourover. They also have your standard latte and espresso options along with a decent bakery selection. Worth the visit if you're in the neighborhood.
Fort Mason (map)
I get a little nervous trying out coffee shops in high traffic locations, but I took a flyer on Equator Coffees' Fort Mason location based on a recommendation. It was well worth the visit. Even with the heavy traffic, the baristas take their time and make an outstanding cup of coffee. I shared a pourover for two with my daughter, which we both enjoyed. They also have a complete espresso menu if you prefer your coffee in that style. They also have other locations in the area, mostly in Marin County. For now, I'm going to stick to the location in Fort Mason. There's something about getting your coffee and being able to enjoy a view of the Golden Gate Bridge, weather permitting. After all, it is San Francisco!
---
Other Regulars in my San Francisco Coffee Shop Rotation
I've written about these in the past, but here are the other coffee shops that I try to get to when I'm in the city.
Mint Plaza (map)
Ok, Blue Bottle is a bit of a chain with locations spread across the US and East Asia. I'm not saying I'm a fan of every Blue Bottle, but the Mint Plaza venue is a sentimental favorite of mine. I've never been disappointed with a cup of coffee from this particular location.
2018 Clement Street (map)
Home has a couple of locations in the city, but my personal favorite is in the Richmond District. It's a great place to grab a coffee, a pastry or light breakfast snack, and then head out to the Presidio or Lands End for some hiking.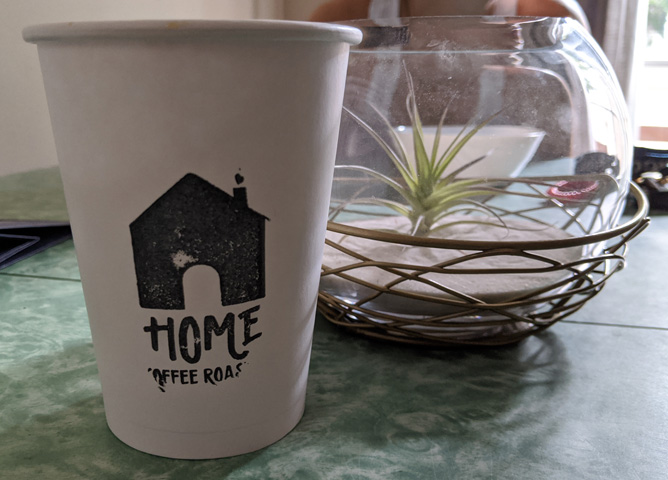 3101 24th Street (map)
It feels weird putting another chain location on the list, but the Philz in the Mission District is where it all started. They've kept it true to the original. It doesn't have a chain-oriented, modern feel. As the cashier told me, it's 'vintage.' Quite honestly, if they do modernize it, I probably won't go back. I've also heard that is not uncommon to run into Phil himself there, enjoying a cup of his own coffee.
2271 Union Street (map)
Some of my favorite restaurants in San Francisco are located in Cow Hollow, and one of my favorite coffee places just happens to be there as well – how convenient!
3655 Lawton Street (map)
I really like the Outerlands of San Francisco. It still has the feel of the city without all the hustle-and-bustle. An added bonus is good coffee. Andytown Coffee Roasters location in Outer Sunset is a great place to grab a cup of coffee before heading out to explore Golden Gate Park.
---
I'm always up for exploring and trying out new coffee shops in the city. Feel free to drop a note in the comments if you have a favorite or two that I should add to my regular rotation. Thanks!