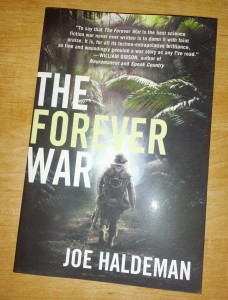 As part of my dive into the genre of science fiction, a good friend of mine recommended I read The Forever War by Joe Haldeman. I'll admit that I was a bit skeptical given the book was written almost 40 years ago, but I figured I'd give it a read since it came so highly recommended, and the Amazon reviews were pretty solid, too.
First published in 1974, the story projects a future set in the early 2000's. The premise of the book is that we've started colonizing space, and along the way, we've encountered a hostile alien species. From there, Haldeman takes you on an adventure through both space and time. A story that is as entertaining as it is thought provoking since you have to wrap your head around the time dilation that occurs during space travel and its effects on the people who are subjected it. Without spoiling the story, the effects are more mental than physical, and well played out by Haldeman.
Interwoven through the science fiction aspects of the story are a romantic subplot and numerous political and cultural statements about the military, government, society and their interaction. Clearly, these statements are a reflection of the author's views and his experience as a veteran of the Vietnam War, but they are well done and integrated cleanly into the story and flow of the book. I also like how the story is told from the first person perspective. It really makes the story come alive and makes you feel a part of it.
Overall, I found the book an enjoyable, fun, and fast read. I wouldn't consider this a must read book, but I would highly recommend it to anyone looking for a little entertainment and diversion this summer.