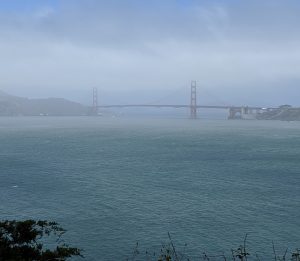 When it comes to the restaurant scene, San Francisco is one of my favorite cities to visit and explore. There are so many excellent choices that it can be overwhelming.
I had the opportunity to visit the city twice during the summer of 2019. To avoid being overwhelmed, I did my research and selected my restaurant targets ahead of time. I stayed away from the popular tourist spots as much as possible and focused on the neighborhood scene. These are the hidden gems that won't show up on a typical Yelp search for 'Best restaurants in San Francisco.' They also have more character and atmosphere, and they won't break the bank provided you go easy on the drinks, wine, and dessert, which is easier said than done!
Here are the 10 best restaurants I ate at this summer in San Francisco. As an added bonus, I've also appended coffee and ice cream recommendations – two of my favorite food indulgences.
---
The Restaurants
Delfina (Mission District, 3621 18th Street – map)
Located less than a block from Mission Dolores Park, Delfina was my favorite restaurant of the summer. Everything including the atmosphere, service, and (of course) the food was top notch. We had salmon, tagliatelle, chicken, and salad, and it was all amazing. Be sure to visit the website and make a reservation, which you may want to do a week or two in advance. You'll need it; otherwise, you may find yourself at their pizzeria next door, which I've heard is very good as well.
Gamine (Cow Hollow, 2223 Union Street – map)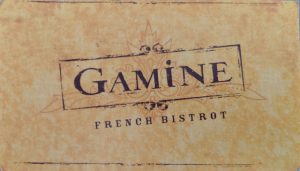 There was a split in our family over our favorite restaurant of the summer with Gamine getting the nod from some. It's a small French bistrot in Cow Hollow. As you'd expect from a French restaurant, their specialty is their sauces, which are decadent and delicious. Our favorite dishes are the ravioli, chicken, and pork chop, but I'm pretty sure you can't go wrong with anything on the menu. They don't take reservations, so you'll have to take your chances when you arrive. Of course, being in Cow Hollow, there are plenty of options nearby if they are full.
a Mano (Hayes Valley, 450 Hayes Street – map)
a Mano is a relative new comer in the Hayes Valley area. We ate Sunday afternoon brunch on one of their outside sidewalk tables. The service, atmosphere and food was outstanding. I would put a Mano in that bucket of restaurants that is going to be hard to get into as time passes, particularly since they don't take reservations. You may want to check their website before going as I wouldn't be surprised if they implement a reservation policy soon.
Delarosa (SoMa, 37 Yerba Buena Lane – map)
If you find yourself in the Downtown area of the city, Delarosa is a great spot for lunch or dinner. I've been here a few times, and every meal has been excellent. They also have a location in the Marina District, which must be good since it's been packed the few times that I've passed by it.
Outerlands (Sunset District, 4001 Judah Street – map)
We had a weekend brunch at Outerlands which was superb. The decor and ambiance fit great with the area which is a mere few blocks from the Pacific Ocean. I definitely plan on making a return trip there and would like to sample their dinner menu on a future visit.
Nopa (North of the Panhandle, 560 Divisadero Street – map)
Any list of top restaurants in the city wouldn't be complete without Nopa. I was very disappointed when I couldn't get a reservation there on short notice. Luckily, they allocate tables for walk-ins, so we were pleasantly surprised when we were able to get a table for an early Friday evening dinner. To be honest, the meal we had at Nopa wasn't the best I had in the city. However, it was the experimentation and combination of unique flavors in every dish that make it a must. There were some pairings that I did not expect that were outstanding, and a couple that were good, but were slightly off-target. Still, I appreciated the fact that the chef is willing to take some risks. Beyond that, the service and atmosphere were among the best we experienced during our visits. It is the quintessential San Francisco neighborhood restaurant.
Ardiana (Noe Valley, 1781 Church Street – map)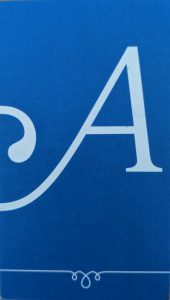 Unless you are in the know, Ardiana is one of those places that you won't hear about when people talk about eating in the city. It's a little out of the way on the outer edges of Noe Valley, but it is worth the trip. It's another one of those spots that caters to the local neighborhood residents, and there is nothing wrong with that. We had dinner on a Friday evening, and the place was bursting at the seams with energy. Part of the fun was watching the choreography of the kitchen and wait staff as they maintained order among the chaos. There's plenty to rave about on the menu at Ardiana, but be sure to try one of their 'For the Table' items and a pizza if you are able to make it there.
Pearl 6101 (Richmond District, 6101 California Street – map)
Tucked away between Lands End, Presidio, and Golden Gate Park is Pearl 6101. It's another one of those restaurants you need to do your homework to find as it is well off the beaten path. Our brunch their was great, and I could see why it would be a popular spot among the locals. Given its location, it makes for a great brunch place before heading out to do some hiking, or for dinner after you've spent the day in any (or all) of the parks it sits between.
Bistro Aix (Marina District, 3340 Steiner Street – map)
Tucked away in the Marina District, Bistro Aix is another traditional neighborhood eatery. You get the sense that it is a favorite among the locals, which is how we found out about it. I hesitate to call it a 'farm-to-table' restaurant, but they do offer a lot of fresh, local, in season produce, meats, and fish. Bistro Aix makes for a great dinner location after you've spent the afternoon browsing the stores and shops lining Chestnut Street.
Papito Hayes (Hayes Valley, 425 Hayes Street A – map)
A list of California restaurants wouldn't be complete without at least one Mexican style eatery. Papito Hayes is located in the heart of Hayes Valley and will satisfy your craving for a great taco, burrito, enchilada, quesadilla, or margarita. Papito Hayes does not take reservations, and they don't have a hostess standing at the door. Tables are first-come, first-serve, but you need to make sure that you write your name on the clipboard by the entry door to claim an open table.
---
Coffee
Yes, I know. Blue Bottle is available in a lot more areas than San Francisco. You can order online and find their product in stores. Before Blue Bottle became that Blue Bottle, they were a small roaster in the Bay Area. I first learned of them through a friend who said I had to visit their Mint Plaza location. Even though they've grown, I still like their coffee, and their Mint Plaza location has not strayed from its roots. If I'm in the Downtown area of the city, Blue Bottle's Mint Plaza location is always at the top of my list of coffee shops to visit.
Home Cafe (2 locations, Richmond District – map, Sunset District – map)
If you happen to venture toward the west side of the city, make sure to put Home Cafe on your list of places to stop for a pick-me-up. You'll find something for everyone, whether you want a straight coffee (their pourovers are outstanding), classic espresso, creative espresso, or even a tea. You won't be disappointed.
Philz Coffee – The Original Philz (Mission District, 3101 24th Street – map)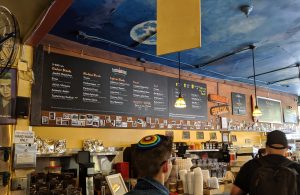 Much like Blue Bottle Coffee, Philz has expanded well outside of the city. While there are lots of locations within the city, the original location is in Mission District and worth visiting. It's not the Philz you are used to seeing. It's not as modern as their newer locations. As the cashier told me, it's 'vintage'. I've heard there's also a good chance you may run into Phil himself enjoying a coffee in the store. It also has a lot of pictures and information that chronicles the history of Philz and its growth. Oh, and it's also a good place to get a coffee, especially if you're into their specialty – the pourover.
I usually like to do my research before trying a new place, but I found Wrecking Ball Coffee Roasters by accident. We were walking down Union Street, saw the storefront, and decided to take a flyer on it. The location may be small and nondescript, but the coffee is really good. I might not go out of my way to get to Wrecking Ball, but I make it a point to stop by if my trip takes me to Cow Hollow, which somehow seems to always happen when I'm in the city.
My first visit to AndyTown Coffee Roasters was their Sunset District location. When we saw the line out the door, we figured it would be good, and it was. They do primarily espresso style drinks here to keep things moving given the volume of customers they have to serve. While the macchiato I had was excellent, I'm planning to visit one of their other locations next time in the city to try one of their pourovers, which is my go to and favorite style of coffee.
---
Ice Cream
Salt & Straw (2 locations, Pacific Heights – map, Hayes Valley – map)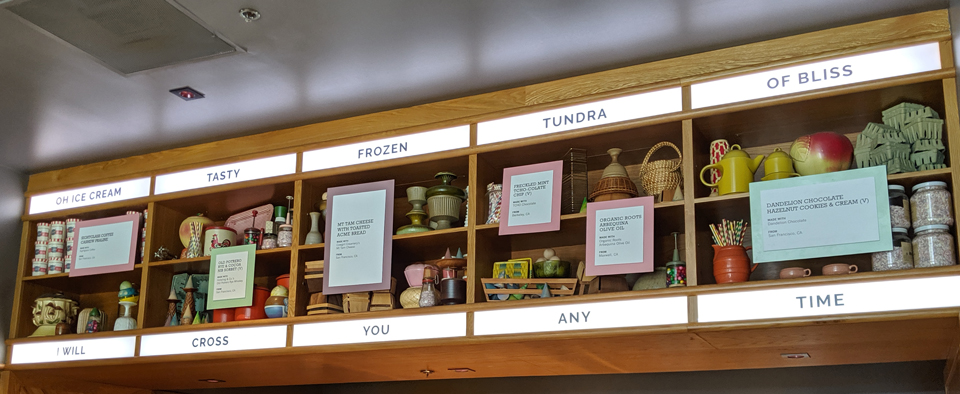 We discovered Salt and Straw last summer while visiting Seattle. It was, and still is, some of the best ice cream we've ever had. Needless to say, we were so delighted when we discovered that they have scoop shops in the major cities up and down the west coast. There are two locations in the city, and I've been to both. And yes, they are both worth visiting while you're there.
Humphrey Slocombe (Mission District, 2790a Harrision Street – map)
If you're looking for ice cream with more of a local flair, then look no further than Humphrey Slocombe. They have a couple of locations, but I prefer their spot in the Mission District. It's not quite as good as our favorite above, but it's not far behind. They have your standard flavor offerings, and they also have quite a few creative ones. If you make it to their shop, go for something you can't get anywhere and enjoy one (or more) of the creative flavors.
---
If there are any neighborhood restaurants, coffee, or ice cream places you'd recommend I try on a future visit, please feel free to leave them in the comments. Thanks!