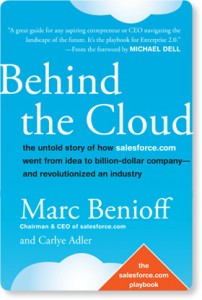 As part of my business reading, I like to occasionally read a business biography. I've found it good for motivation, and there is usually some good business ideas and practices I can pull from it. A couple of my favorites are Jack: Straight from the Gut and Sam Walton: Made in America. It's interesting to learn how others have handled adversity and overcome the challenges of building a business. Therefore, it's not strange that I would be interested in Behind the Cloud: The Untold Story of How Salesforce.com Went from Idea to Billion-Dollar Company and Revolutionized an Industry by Salesforce.com CEO Marc Benioff and Carlye Adler. Given that I'm bootstrapping my own software business, I figured there would be some good lessons and motivations I could draw from it.
As you would expect, the book is focused on the origins of Salesforce.com and how Benioff built the company from a technology startup in a San Francisco apartment to a successful publicly traded company. It is divided into segments covering basic business concepts such as marketing, sales, leadership and financing. The book is woven together as a playbook with the lessons within each section called plays. All told there are 111 "plays" in the "playbook".
For me, I found the marketing and leadership chapters of the book the most interesting and the most applicable for my situation. Some of the insights are common and well known such as putting the customer first, creating a persona, and differentiating your brand. What makes them so interesting is how he utilized these concepts to build the company.
There were a lot of good pieces interspersed throughout the other sections of the book, but I didn't find them to be as useful or applicable for me. Many of the plays are specific to Salesforce.com. In other words, while these plays may work in the Salesforce.com environment, I'm not convinced that they could be easily abstracted out and implemented in another organization. There is an underlying culture and set of values that Benioff created which permeates the organization and allowed a lot of his plays to work. Either way, it makes for interesting reading to see how all the pieces come together to form a successful company.
The book was worth reading for me, but it felt like it would be more applicable to scaling a company built on a big, grand idea. I may have liked it better and gotten even more out of the book if he would have spent more time focusing on the company's near-death experiences he alluded to a various times and how the company survived them. On the other hand, since I doubt I'm the book's target audience, that's probably asking a bit much.
It's not the best founder book I've read, but it's probably because he was targeting people trying to build and scale industry-shaping companies, not small bootstrapping businesses. If I get to a point of true scaling, I may want to revisit the book (and this review), as it's possible, and highly likely, that I could have a much different opinion about it.
Bottom line, I wouldn't highly recommend the book for someone running a small business with a small development team, but I would recommend it for some who is looking to build, or is in the process of scaling, a business based upon an industry shaping idea. In that case, a lot more of the plays outlined in the book will be relevant and applicable.
Hopefully, I will be in a position to revisit the book someday and apply more of the teaching and principles presented by Marc Benioff. It's clear he's done one incredible job building Salesforce.com into the company it is. I respect him for the job's he's done. Speaking from experience, it's a lot of work and not easy to do.