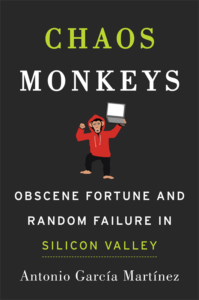 There are a number of notable technology startup communities across the U.S. There's Boston, Austin, Los Angeles, San Diego, Boulder, Seattle, and Raleigh-Durham. Still, even today, the one that stands head and shoulders above all these areas and others is the Bay Area of Northern California. I liken it to being in the major leagues of technology, particularly when it comes to tech startups.
I've not been involved in a Bay Area startup, and at this point in my career, I doubt that I ever will be. But as someone who works in tech, it's interesting to read stories about the Bay Area technology scene. From the outside it always seems so glamorous, but one knows that's never the whole story. For every Facebook and Google, there are hundreds of forgettable companies, or ones that no one ever hears about.
Chaos Monkeys by Antonio Garcia Martinez is an autobiographical look at that other side of Silicon Valley. The subtitle, Obscene Fortune and Random Failure in Silicon Valley, is a good indication of what to expect when you read it.
To be honest, Chaos Monkeys turned out to be a lot different than what I expected. I figured I was going to be reading a book about how the big technology companies are pushing the envelop and breaking rules in their attempt to monopolize markets, generate obscene profits, and validate their stratospheric market valuations. What I got instead was an autobiographical story of how Martinez left a doomed startup, started a company backed by the Y Combinator incubator, ended up at Facebook, and was subsequently bounced out.
The overall story arc is interesting, and not all that uncommon from what I've heard. While it was interesting to hear a first hand founder's account of how the Valley really works, I could have done without some of the details. Martinez spent a little too much ink discussing details of personal relationships, drunk happy hour parties, office politicking, and axe grinding for people he felt wronged him during his time in the Valley.
On the other hand, the book confirmed one aspect of the Valley that I expected, and a side I don't care for. There is a lot of ethics stretching that is expected, tolerated, and required to succeed when starting a company in Silicon Valley. It's unfortunate it has to be that way, but from what I can tell, it's been baked into the culture. It's so pervasive, I don't see it ever changing.
Otherwise, outside of some light, entertaining stories, I didn't get a lot out of the book. It felt like a series of conversations I would have with a friend over a beer. It's not a book that will stretch and exercise your imagination, which is what I prefer from my lighter reads. So if you're aspiring to start a company and want to do it in Silicon Valley, the book is a good expose on what it really takes to succeed. It will prepare you for what to expect. Otherwise, I'm not sure how interesting you'll find the book and might recommend passing on this one.