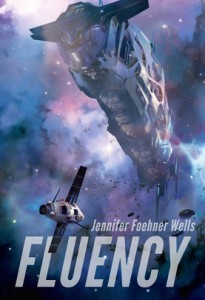 Even though one of my major reading themes for 2015 is to stay close to authors I know and like, it's important to mix in a new author every now and then. I never know when I might stumble across another author to add to my trusted list. So for my most recent book, I decided to stray off the beaten path and read Fluency by Jennifer Foehner Wells. It's a science fiction book that had shown up numerous times through the Amazon recommendation engine since its release last summer. When it showed up on Amazon's Daily Deal list near the end of last year, I figured I would get it. It only took 8 months, but I finally got around to reading it.
Fluency is a story about first contact with extraterrestrials. NASA has been watching a seemingly orphaned space ship that has been floating in the asteroid belt since the sixties. Technology has finally progressed to the point where a crew can be sent to make contact with and explore the spacecraft. The crew is a diverse group of many talents, and the heroine of the story is an accomplished linguist tasked with communicating with any beings they may run into.
Let me start by saying that I enjoyed Fluency. For a debut novel, it is very well written with a story and characters that hold your attention. It kept me so engaged that I was able to read it in less than a week, which is pretty fast for me. However, I wouldn't throw it into my Must Read category of books. The story is a bit predictable, and the characters follow a pattern that I've run into across many books. I'm not saying that it's a bad thing, it just took a little bit away from the strength of the book. I'm certain that Wells has a sequel in the works, but given my desire to stay away from book series, I'm on the fence as to whether I'll pick it up.
So would I recommend Fluency? Of course. It's a fun, interesting read that I would suggest someone read over a long weekend, during a long plane ride, or while on vacation. You won't be disappointed.