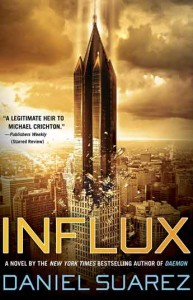 One of my first forays into hard science fiction, and one of my favorite book(s), was the Daemon/Freedom two-book series by Daniel Suarez. I was a little disappointed in his follow-up novel, Kill Decision, but not enough to keep me away from his latest work, Influx.
The premise of Influx is a little different than Suarez's first two novels. Where his first two works were heavily based on near-term technologies, Influx takes more of a fictional, borderline fantasy approach to technology. In other words, the technologies explored in Influx aren't as well developed as those he's explored previously. I would venture to guess that the technologies are almost a wish list of what Suarez wishes were available to us.
The story centers on a young investor, Jon Grady, who has invented a mechanism that allows him to control gravity. Before the news of the invention can get out, he, his team, and his invention are captured by the BTC. Who is the BTC you ask? They are a secretive government agency known as the Bureau of Technology Control that has been amassing advanced technologies such as advanced artificial intelligence, fusion energy, a cure for cancer, age reversal processes and more. Their mission is to secure these technologies before the public knows about them. Their concern is that the public is not ready for the accelerating pace of technological process, so they are hording these technologies in order to protect the public from themselves. The agency is so secretive that not even their government overlords are aware of not only the types of technology they have been amassing but also just how much they have been accumulating.
After his capture, the BTC tries to coerce Grady into working with them to continue his research and the advancement of his gravity reflection device. Appalled at how and why the agency is withholding advanced technologies from the general public, Grady refuses to cooperate.  The BTC imprisons him against his will in order to force him to cooperate. Through a series of plot twists, Grady escapes, and that's when the real action starts.
There's no doubt about it, Influx is a good techno-thriller. It will keep you entertained over the course of a weekend or two. I liked it better than Kill Decision, but it wasn't as good as Daemon and Freedom. It's not strong enough to make my Must Read list, but it's worth reading if you're looking for something light and entertaining. I would consider it in the same realm as other good science fiction books I've read like Fluency, Resurrection, Wired and Brilliance. In other words, it's a solid, well written book, but not one that I would consider great.
Either way, I'm looking forward to what Daniel Suarez has in store. I'm sure his next book will show up on one of my future reading lists.