As part of my efforts to cut as much added and refined sugar out of my diet as possible, I've been reading a lot more food labels this year. I was surprised by how much added sugar was in Orange Juice and Tomato Sauce, two items that were regular staples in my diet. I cut orange juice out of my regular routine at the end of last year, but I knew tomato sauce would be more of a challenge. Spaghetti is a regular meal in our house, and we use tomato sauce for other dishes as well. The solution was simple – I had to start making the sauce from scratch.
Thanks to the power of the internet, I was able to discover a couple of recipes for tomato sauce pretty quickly, What surprised me was how simple they were. All you need is a can of crushed tomatoes, a little olive oil, a couple of cloves of garlic, some basil, oregano, pepper, and a few hours to let the sauce simmer on the stove. It literally takes about 10 minutes to prep, and then about 2-4 hours (or more) to simmer.
The Ingredients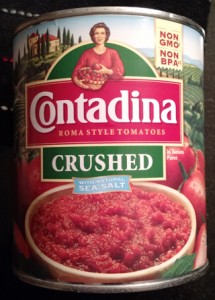 Here is what we've been using for our sauce:
1 Tbsp olive oil
2 (or 3) cloves of garlic
1 28-ounce can crushed tomatoes
1-2 Tbsp dried basil leaves
2-3 tsp oregano
1-2 tsp black (or red) pepper
When it comes to the oregano and pepper, I don't worry too much about the exact measurements. I just eyeball it. Then I adjust the amounts to get the taste that I want.
The Process
Start with a 2 quart saucepan over medium heat. Add the olive oil and crushed garlic. A garlic press works best for crushing the garlic. Cook the garlic until it is browned and tender, then turn down the heat to low.
Add the crushed tomatoes, dried basil leaves, oregano and pepper. Leave the heat on low and cover. Over the next 2-4 hours, check the sauce and stir occasionally. I also recommend tasting the sauce and adjusting the seasoning to match your tastes.
Once the sauce has simmered for a couple of hours, remove from heat and serve. By the way, the longer you can simmer the sauce, the more robust the flavor tends to be. If you can afford to let the sauce go for a full four hours, or maybe even up to 5 or 6 hours, it's worth it.
By the way, you can also add other items such as mushrooms, green peppers, or onions as well if you want to spice things up. If you want to make a meat sauce, you can also brown ground meat and add it to the sauce, too. I haven't experimented with adding any of these ingredients yet as the simple recipe is really good as is.
The Result
I've been absolutely amazed by how simple it is to make your own sauce, and how much better it tastes than what comes out of the jar. Plus, the one thing that I cannot demonstrate in this post are the smells that fill your house. When the sauce has been on the stove for a couple of hours, the aroma that fills your house is wonderful. Now I understand why people reminisce about their mother or father making pasta, or going to their grandparents house for pasta. Just the smell of the sauce simmering on the stove is an experience.
One warning if you start making your own sauce – you may find it difficult to switch back to sauce form a jar or to have pasta at a restaurant. I've had a few experiences eating out where I've been able to taste the sugar added to the tomato sauce. I find that it doesn't enhance the flavor. It actually makes the sauce taste worse.
Even if you're not looking to cut added sugar from your diet, I still highly recommend making your own sauce. It's simple, and the taste is way, way better. Trust me, you won't regret it.