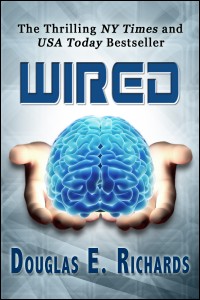 One way that I've been building my reading list is through the Amazon recommendation engine, which I lovingly hate. Wired by Douglas E. Richards is a book which had been consistently showing up in the recommendation lists, so I figured it must be worth checking out. The description fit into my science fiction themes, and the reviews were generally positive. It finally popped to the top of my list, and I was eager and excited to dig into it.
The plot involves a retired special forces member, David Desh, who is hired by his former employer, the US Government, to track down a genetic scientist named Kira Miller. She's been accused of various crimes and deemed a national security threat because of a therapy she's created that permits a person to temporarily achieve superhuman levels of intelligence. What appears to be a straight-forward mission quickly unravels. Desh begins to question his orders and has to figure out whether the people who hired him or his target, Kira Miller, are on the right side of the law. All the while, the imminent threat of a bio-terror attack, supposedly masterminded by Kira Miller, pressures Desh to solve the mystery as quickly as possible.
I don't want to give any more of the story away, as there are quite a few plot twists – some which are expected, and some which will catch you off guard. In addition to the suspense of the plot, the book is fast-paced with plenty of action that kept me engaged. Overall, it's a well written book which reads easy and is difficult to put down. There is also a decent amount of sci-fi, although it wasn't developed deep enough, nor was there enough of it, for my liking. It was the only issue that I had with the book, which was mostly a personal preference. In other words, for most readers, I would guess this minor complaint will be a non-issue.
Overall, I found that the book was similar to Brilliance, which I read earlier this year. Even though, like Brilliance, I wouldn't put Wired into my Must Read category of books, I would still recommend it. It's a great book to take with you on vacation or long plane ride. It's a light, fast, entertaining read that can be completed in a short amount of time. It only took me two or three days to complete from beginning to end.
With the completion of Wired, I've made it through 12 of the 20 books on my 2014 reading list. Since we're just over halfway through the year, I'm feeling confident I'll make the original 20, provided I stay disciplined and don't let any more interesting titles jump the queue.