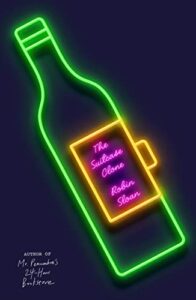 One of my favorite "under the radar" authors is Robin Sloan. He's not a prolific writer, but he has written two of my favorite books: Mr. Penumbra's 24-hour Bookstore and Sourdough: A Novel. If you haven't read either of these novels yet, I highly recommend. They are both fun, adventurous reads.
When the Goodreads newsletter announced that Sloan was coming out with a new book, The Suitcase Clone, I had to take a look. When I saw that it was part of the Penumbra-verse and a prequel to Sourdough, I had to read it.
The Suitcase Clone is a novella, so it can easily be read in one sitting, two at most. As with Sloan's other books, the writing is great. The story moves effortlessly. It grabs and keeps your attention throughout.
The plot revolves around a young, adventurous traveler, Jim Bascule, who takes on the mission to grab a suitcase clone from a remote vineyard near the France-Italy border and transport it back to California.
What is a suitcase clone you ask?
It's snippings of the vines from a vineyard in a foreign country that the perpetrator has to smuggle to another country or region. The ultimate goal is to cultivate the snippings, possibly grafting them with existing vines, to recreate the wine in a new location. It's a practice that's frowned upon and illegal if caught smuggling the plants across international borders. However, the rewards of growing the vines in a new location are too great to pass up.
As with Sloan's other books, The Suitcase Clone is full of eccentric characters, all of which add tons of color to the story. Some of the characters are familiar from his other works such as Mr. Penumbra's 24-hour Bookstore and Sourdough. Unfortunately, it's been so long since I've read either book, that I had a hard time making the connection.
If you're a Robin Sloan fan like me, I'd recommend reading The Suitcase Clone. It may make sense to review his other novels first, or to read both Mr. Penumbra's 24-hour Bookstore and Sourdough if you haven't already read Sloan's works. It will provide more context, make it easier to piece it into the Penumbra-verse, and bring even more life to the characters.
By the way, to learn more about how Sloan came up with the concept for The Suitcase Clone, check out this article on his blog (click here to read). I always find the backstory for a book interesting, especially when told by the author.