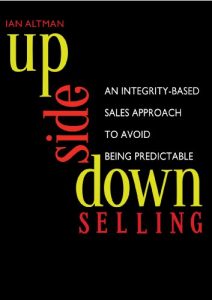 I got a lot out of the book Same Side Selling by Jack Quarles and Ian Altman. It was one of my Must Reads in 2015 and one of my top business books to read for 2016. What I liked most about their approach was that, unlike most sales books, they don't focus on driving the client to 'yes'. They encourage you to examine your business model's strengths and weaknesses, understand what customer problem(s) your solution or product solves, and identify your target clients. As I wrote back in July 2015, they don't teach closing techniques:
Instead, they take a long-term view to the sales process and drive the delivery of value to the customer as the basis for a long-term relationship.
In other words, they propose an approach where the seller offers value by working together with the buyer to build a solution, or offer a product, that solves a buyer's specific problem.
Given how much I liked the book, I decided to grab a copy of Altman's Upside Down Selling.