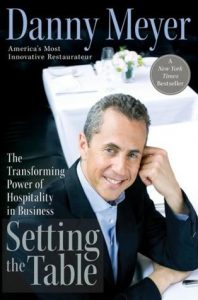 With most books, it's pretty clear what you're going to get when you read them. Others can surprise you. I'd have to put Setting the Table by Danny Meyer in the latter category.
I received the recommendation from a customer I started working with last year, who I would now consider a good friend. When we started working on a project together, he suggested that I read the book. My first thought was, "a book by a guy who runs restaurants, how could it possibly apply to my technology business?"
Turns out, the book is very applicable to my business. In fact, anyone running a business that deals with customers, meaning every business owner, can benefit from the lessons and experiences Danny Meyer's shares.