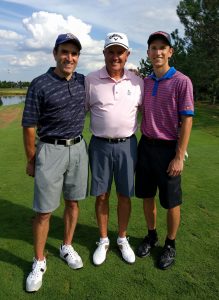 As the last major golf tournament of 2016 wraps up, I'm reminded as to why golf is the greatest sport. Here's why.
Earlier this month, I traveled back to the east coast and spent a few days golfing with my dad in Pittsburgh. From there, I headed to Detroit to visit my son Brad. He's working at a golf course for the summer, so I figured I get in a couple more days golfing with him. When I told a good friend about my plans, he said "take advantage of generational opportunities." I took his advice and invited my dad and my mom to join me on the trip to visit their grandson, and to play a little golf at the course where he works. It turned into an outing I'll remember forever.
There's been a lot of talk lately about how the game of golf is waning in popularity. Because of this, people want to change the game. They want to make it less challenging. They want it to take less time to play a round. I've written about this before, but I don't think the game of golf should be changed.
The game of golf allowed me to arrange a gathering of three generations where we got to spend over four hours together doing something we all enjoy. We got to talk about lots of different topics. We got to kid with each other, crack jokes, enjoy our company, and get to know each other a little better. Best of all, we had the opportunity to build memories that will last a lifetime. I know there are lots of ways to do this, but how many other sports allow it? When I think about it, it's not very many.
Golf is a game that can be played your entire life. My dad, who is approaching 70, plays a solid game that is more than respectable. I've played with people who are in their eighties that can still play competitively, which is another beauty of golf and its handicap system. As the USGA puts it, the handicap system ".. allows all golfers to compete in a fair and equitable manner," but I digress.
The point I'm trying to make is that golf is a great game. I'm glad that I handed it down to Brad, and I hope that he hands the game down to his children. It creates opportunities where we can enjoy each other's company in a fun, relaxing, and if we want, a competitive environment. So instead of changing the game, I say we need to cherish it. And for those who have a deep love for it, it's important that we pass our love for the game on to future generations.
And in case you are wondering, the old man still has it. My dad beat us both days. It wasn't by much, but in his words, he "kicked our butts". You can see the scorecards below. Also, if you're ever in the Ann Arbor/Ypsilanti/Canton area west of Detroit. be sure to check out Pheasant Run Golf Course. I really enjoyed each of the three nine hole courses. The layout was fair and challenging, and the course was in great condition when we played it.