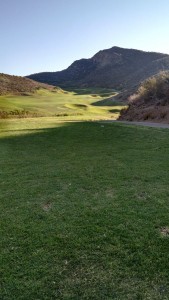 The start of this year's golf season has been special. Jordan Speith's record tying run at the Master's that ushered in talk of a new face for American golf. Rickie Fowler's win at The Players' Championship showing he can back up his flare with talent. Rory McIlroy's run away win at the Wells Fargo showing he will be a contender the rest of the year. Throw in the excitement that surrounds every tournament Tiger enters, the media attention Phil draws, and things look great for golf.
So why are people complaining that golf needs to change?
Well, despite all the news and excitement, the fact is that the number of rounds played is down, a trend that is not showing any signs of turning around. People are blaming pace of play, time commitment and difficulty to master the game. In order to combat these concerns, people are proposing changes to how golf is played. They are proposing a reduction in the number of holes from 18 to 12. They are suggesting larger holes. They are recommending equipment changes that will only apply to amateurs in an attempt to make the game easier.
In my opinion, golf is not in trouble because it takes too long, or because it is too hard. Golf is dying because the people who play and love the game aren't handing the game and its traditions down to the next generation. By handing it down, I don't just mean showing the next generation how to play it. I'm talking about handing down the meaning of the game and reinforcing its foundations.
I would contend that golf does not need change because it is already the greatest sport around. Here's why I think that:
It can be played your entire life
How many sports can you play and enjoy both as a child, a teen, an adult, and as a senior? How many sports can people of all ages play together competitively? I would content that golf is one of the only sports that you can enjoy that way.
The pace of the game fosters camaraderie and friendships
Sure, a slow weekend round can take over 5 hours, but it's five hours in the outdoors with your friends. It's a great way to catch up after a hard week of work, share stories, and develop common bonds.
Playing requires patience and perseverance
Yes, the game is hard to master, but it is possible. It requires practice, patience and perseverance. Talk to anyone who has played the game. They will tell you there is nothing like the feeling of a driver striped down the middle of the fairway, a solid iron shot, or rolling in a 25-foot putt – even if it is for triple bogey!
The rules are complete
The number of rules in golf suck. They're hard to understand. They require interpretation. But what they are is complete. I haven't run into one condition on the course, or seen a professional on television run into a situation that was not covered by the rules. They are also unambiguous. Sure, it can make it frustrating, but it also makes it fair for everyone.
It's a game of honor and etiquette
There are many, many unwritten rules in the game of golf. It's another thing that builds a common bond between people who play it. No matter where I go, or who I play with, you know that you don't walk in someone's line, you don't disturb them in their back swing, and you help them look for a ball that's potentially lost.
It's a window into a person's soul
If you don't believe that golf can tell you a lot about a person, read Michael Murphy's classic novel Golf in the Kingdom. It will change how you look at the game. It will change how you view the people who play it. And you may even learn something about yourself!
The game of golf is a great game. There are many reasons to love the game the way it is. Making changes would destroy its history and cheapen it. In fact, changing the rules could very well have the opposite effect and further reduce the interest in the sport. It could drive away people such as me who love the game the way it is.
Golf is much like baseball. They are sports that are steeped in history and tradition. They are not fast-paced, action sports like basketball, football, or hockey. In fact, golf was never meant to be an action sport and shouldn't be changed so it is. Golf is meant to be a sport that requires patience, encourages you to spend time with your friends and family, and allows you to enjoy the outdoors. I hope that the stewards of the game at the R&A and USGA will continue to protect the game and the reasons why it is the greatest game around.