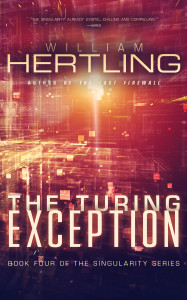 What do you do when one of your favorite authors finishes another installment in a book series that you really like? You stop what you're doing and move that book to the top of your reading list.
That's what happened to me recently when William Hertling, the author of the Singularity Series, finished the fourth installment titled The Turing Exception. The Turing Exception picks up 10 years after the completion of The Last Firewall. In addition to introducing the effects of advanced nanotech, It adds another layer of artificial intelligence into the mix, the ability to upload your mind to a computer. It makes for some interesting plot dynamics and gives you even more to think about if (and when) the technology becomes available. There are some vexing moral quandaries and dilemmas presented which Hertling leaves for the reader to ponder on their own.
The Turing Exception is a natural extension of The Singularity Series. The technology and situations presented are just as plausible as those from the first three books of the series. While the book does start a little slower than A.I. Apocalypse and The Last Firewall, it's a necessary build-up to setup the action and plot climax that occurs in the second half of the book. Without a little background, it might have taken away from the believable nature of the story and the technology behind it.
For anyone who is interested in artificial intelligence, the Singularity Series is an absolute must read. Hertling's view of the development and growth of artificial intelligence is well thought out and very believable given today's rapid pace of technology advancement. I loved the story arc presented in all four books and how they were all tied together. It was fun imagining how artificial intelligence could advance from a simple email scanning tool, to self replicating algorithms, to neural implants, to AI more advanced than humans, and beyond. The benefits, drawbacks and moral dilemmas that Hertling covers will make you pause and consider if we are under-regulating, or over-regulating, the advance of AI. As a warning, it could lead you to want to learn more about the current state of AI and where it is heading. To learn more on that subject, I'd strongly suggest a book with William Hertling recommended to me – Our Final Invention by James Barrat.
William Hertling, in my opinion, is one of the premier science fiction writers of this generation. He has an uncanny ability to present advanced technology concepts in a way that is easy to understand and yet very believable.  The only question left in my mind after finishing The Turing Exception is what Hertling's next book will be. Whatever it is, I'm already looking forward to it!
Here are my reviews of the first three books of The Singularity Series:
Book Review(s): Avogadro Corp and A.I. Apocalypse
Book review: The Last Firewall