In the nearly 25 years that I've lived in Southern California, I've visited San Diego a dozen or so times. I've been to the Zoo and Sea World, toured UCSD and San Diego State, spent time at the Convention Center, taken in the view at Point Loma, and enjoyed the night life in the Gaslamp Quarter. Surprisingly, I had never ventured to Old Town San Diego. I don't know why. Maybe it was the name that made it sound tired, run down, and not much fun.
On a recent trip into San Diego, a colleague who lived in the area suggested I give it a try. He said that it would be a great place to take the family and get dinner. Since I had never been, I figured it would be worth giving it a try for something different. I must admit that I was pleasantly surprised.
Sure, if you're looking to hop from bar to bar and a lively nightlife scene, then the Gaslamp Quarter is the place to go. On the other hand, if you're looking for a good, quieter place to grab dinner with the family and browse through a few souvenir, eclectic and off-beat shops, then Old Town is a welcoming place. It's also very historic. As the tagline on their website says, it is the "Birthplace of California".
Old town is nestled at the intersection of the 5 and 8 freeways just north of San Diego's modern downtown area. We parked at the corner of Juan and Twiggs Street and started our visit by exploring a couple of the souvenir shops along Twiggs. We then proceeded into the Old Town San Diego State Historic Park. Inside the park, the shops are more historic and offer many hand-made items ranging from jewelry to soaps to food. It can be fun just browsing through the various stores.
For dinner, we choose Casa De Reyes based on the recommendation of my friend. The restaurant serves traditional Mexican faire with the seating in an outdoor courtyard setting. There is also a small stage inside the courtyard adjacent to the restaurant seating where Mariachi bands and other traditional Mexican music is played, adding to the atmosphere and ambiance. There was a considerable wait given it was Saturday night, but we passed the time checking out the stores surrounding the courtyard.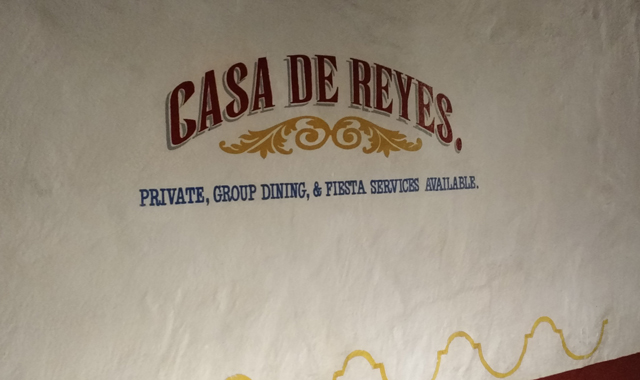 We had a great meal at Casa De Reyes. My enchiladas were great, and the girls absolutely loved their tacos. I also decided to try a Legendary House Margarita even though I'm not a big fan of tequila. I must admit that it was one of the best, if not the best, that I have ever had. Let's just say they make a mean one. If you're feeling really adventurous, you may want to try the El Jefe Margarita. It's a 58-ounce drink made for two. You're bound to see a few as you enter the seating area.
I had a good time with the family exploring the various shops in the area and really enjoyed our dinner. Needless to say, I expect I'll be spending time in Old Town on a future visit to San Diego.