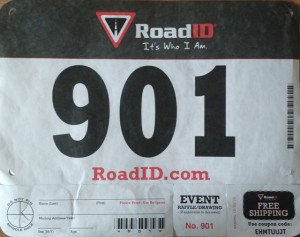 I'm not a runner. I don't like running. I don't understand why people run.
My daughter Amanda, who's run both a full and half marathon, roped me into running a 10K recently. Well, she didn't twist my arm too hard. I do my best to stay is shape at the gym, and I do a lot of walking with my dog. Running a 10K was one of those things I wanted to cross of my list of fitness things to do.
Here's my experience running my first, and quite possibly my only, 10K.
Preparing for the Race
Once I signed up for the race, I decided to do some preparation. For starters, I decided I should get the proper equipment for running. Since I'd never run recreationally or competitively, my first order of business was getting the proper shoes, socks and shorts for running.
Training for the Race
Once I had acquired the proper equipment, Amanda convinced me that I should do some training. It's not that I was opposed to training. It's just that I wasn't looking forward to it.
Amanda and I started running about four weeks prior to race day. The first runs we did were about 3.5 miles, and even though we ran at a light pace (~9 minute miles), I was feeling it. Running uses different muscles than my normal cardio activities at the gym – the stairs and cycling. I have to admit that I had my doubts after our first two runs if I could beat a personal goal I had set for myself of finishing in under an hour.
As we progressed into the second week of training, I found that I was able to quicken my pace a bit and was starting to average closer to 8-1/2 minutes per mile. Unfortunately, Amanda came down with a cold, and I was left to finish my training on my own.
She had recommended doing one long run prior to the race. So, the Saturday before the race, I set out on a 7.5 mile run. I finished it, but not at a great pace – 9 minutes per mile. I felt confident that I would be able to run the 10K, and I felt like my goal of under an hour was achievable. For anyone planning on their first 10K, I strongly recommend the "long run".
I ran two more times prior to the race. Overall, I completed 8 runs prior to the race and covered a total of 33 miles. While it helped that I'd been doing a regular cardio regimen at the gym, training was key. Training also gave me the confidence to pace properly, to know I would finish, and to understand how my body would react to running over long distances.
Race Day: Running the 10K
I was feeling pretty good on race day. I decided to set a goal of finishing in under an hour, with a stretch goal of breaking 50 minutes. Amanda told me ahead of time that she was fine letting me run out ahead as she was going to run at a 9 minute per mile pace.
I started off running a pace of 8-1/2 minutes per mile, which was not going to get me under 50 minutes. After the first mile, I decided to pick things up a bit. I knew I was going to need to get to about 8 minutes per mile to make my stretch goal.
With my Runkeeper app giving me updates every quarter mile, I was running just over 8 minute miles at the halfway point. All I had to do was maintain pace, and I would make it. Needless to say, the second half of the race was an exercise in mental gymnastics as my mind continually convinced my legs that they could keep pace over the second half of the race while I continually did the mental math of 6.2 miles times whatever pace Runkeeper was barking at me.
As I reached the last quarter mile, my goal was in sight. I tried to pick it up, and while it felt like I was, my splits show that I was just able to maintain the pace I was on. Runkeeper told me that I finished in 50:12 – just outside my goal. However, when I checked the official results, I finished in 49:56 – 4 seconds to the good! Needless to say, I was really excited when I realized my official time was just under 50 minutes. After a few minutes, Amanda made it across the finish line. She finished under her goal of 9 minute miles.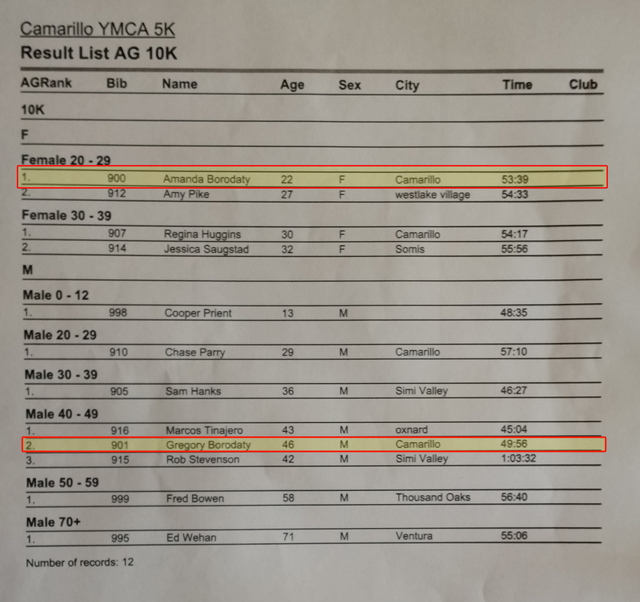 You can download a PDF of the official race results by clicking on the above image, or you can view them online here – http://my4.raceresult.com/47198/results?lang=en#2_4C47AE.
Below is an overview of the course and my splits. The course was fairly easy with very little elevation change and no significant hills.
Post-race Thoughts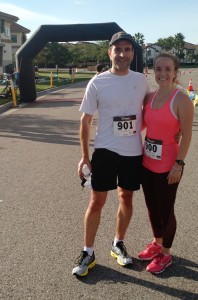 So, even though I still don't like running, and I don't plan on becoming a runner, at least I understand it now. Running with a goal of finishing a race, whether it's a 5K, 10K, half marathon, or full marathon, fills you with a sense of accomplishment when you do it. Given my competitive nature, there's also the challenge and fun of competing against yourself and the clock. I guess the old saying that you need to walk (or in this case run) a mile in someone else's shoes to understand what they do applies to running. I didn't get it before running the 10K. Now I do.
I'm also very glad that I finished just under 50 minutes. If I had finished just over, I would have been very disappointed. I don't know if it would've made me want to run another 10K, but I'm glad that I don't need to answer that question.
I'm not going to say that I'll never run another 10K, but I'm going to retire my running shoes for now. I plan to get back to working out at the gym, walking and the occasional spin class. I feel like those activities are keeping me in decent shape, and they're a lot easier on the joints.