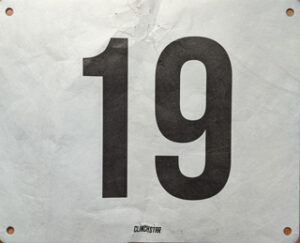 When the local gym closed down for good over the pandemic, I had to look for another way to stay in shape. I decided to take up running (again). While I hate running, it was the best available option, particularly since Courtney would run occasionally while she was living with us last year.
I've been running consistently for about a year and a half. When I got an email about this year's YMCA 5K/10K holiday run for fun, I figured it was time to put my training to the test. I ran in the very same event 6 years ago. At that time, I ran the 10K. I wasn't up for the long distance this time around. I decided to sign up for the 5K, and Amanda and Courtney agreed to join me.
Race preparation
While I had been running consistently for over a year, I had the Runkeeper app put together a training plan for me. My goal was to finish in under 30 minutes, but I really wanted to do my best to break the 25 minute mark. I entered the details into the app, and it put together a plan over the 6 weeks leading up to race day that fit my twice a week running schedule.
I faithfully stuck to the schedule, even though I had to finish one of the last training runs during some stiff Southern California Santa Ana winds. Let's just say that running in 30-40 mph wind gusts is not a lot of fun!
Race day
Well, race day went as expected, possibly even better than expected. I'd say the training plan from the Runkeeper app prepared me well for the run. There were a couple of times were the struggle was real, especially around the 2 mile mark, but I survived. Best of all, I managed to beat my target time by a few seconds and finished at 24:48. My 5K time was probably better, because all three of our running apps measured the run closer to 5.25km.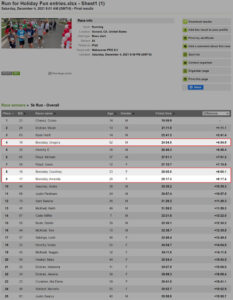 Even though it wasn't a huge group of runners (~50), I still managed to represent the 50-and-over crowd well by finishing fourth. I was pressing pretty hard to maintain an under 8-minute mile pace. It would have been unrealistic and impossible to match the winner's pace of under 7-minute miles.
To the right are the official results, which you can expand by clicking on the image. You can also view the full results here: December 2021 Holiday 5K Fun Run Results.
The next one
While the 10K may have been a one-time event, I could see running another 5K or two in the future. The training to prepare is reasonable, and the race distance is manageable. Luckily, I also felt reasonably fine afterwards, thanks to some light stretching I did before and after the run to keep things from tightening up.
So if all goes well, hopefully it won't be another 6 years until my next road race. And provided I can stay in decent shape, my goal will be to keep things under the 25 minute mark the next time out, too.
Finally, a special shout out to Amanda and Courtney for running with me. I had a lot of fun, especially hearing the stories of the "competition" between Amanda and Courtney (which Courtney won by the way). Hopefully, you will join me for the next one, although Amanda has told me she plans to stick to cycling 🙂