Since I've lived in California, I've never been a big fan of Northern California, especially the Silicon Valley-San Jose-Sunnyvale area. I'm not sure what bothers me, but I never enjoyed traveling there. San Francisco, however, is an exception. It is one of my favorite cities in the world to visit.
I was in San Francisco last week for a conference and had some time to explore the city. Here's a few of my favorite places to go while I'm there, and a couple of new places I discovered:
1. Scala's Bistro
One of my favorite places to eat in the city. It's just off Union Square on Powell Street. I've had a couple of great meals there, although I wasn't able to eat there last time around. I failed to make a reservation and didn't feel like waiting 3 hours. Needless to say, it gets crowded, especially on the weekends.
2. Ghiardelli Square
Yes, this is a bit touristy, but I always enjoy stopping by Ghiardelli Square while I'm in the city. There's nothing like swinging by the Ghiardelli chocolate shop for a few treats. My favorites are the dark chocolate sea salt and caramel squares and the chocolate covered strawberries.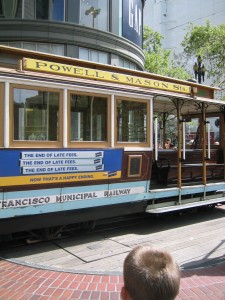 3. Union Square
Union Square is the center of the city in my mind. It's hard for me to recall a visit to San Francisco where I didn't end up spending quite a bit of time around Union Square area, and my most recent trip was no exception.
4. The Cable Cars
Like Ghiardelli Square, it's a bit touristy, but it never gets old for me, particularly on the Powell & Mason Street Line. The views are absolutely incredible on a clear day, especially when you crest the hill on Powell Street and get a clear view of Alcatraz Island. Plus, it sure beats the walk from Union to Ghiardelli Square.
5. Blue Bottle Coffee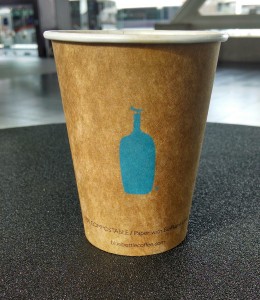 I'm not the biggest coffee drinker, but Blue Bottle Coffee was highly recommended on my latest trip to the city. It's a bit tough to find in Mint Plaza, which is a bit off the beaten path, but you'll know you've found it when you see the line. I waited 20 minutes for a Cafe Mocha, and it was worth every minute of it. My only regret was eating breakfast before I went. I should've waited and had a bowl of the steel cut oats that was on their menu.
6. Tank 18
On Sunday evening, I was looking for a place where I could relax and have a glass of wine. Tank 18 showed up on a Google search, so I decided to check it out. I was pleasantly surprised. They bottle their own wine and had a very tasty Syrah. I was drawn there by a Meritage I saw on their website, but the waitress told me that it was extremely popular (and very good) and had sold out. I'm sure I'll find my way back here on a subsequent trip.
7. Rue Lepic
When my daughter and her boyfriend, whom I met up with while on my last trip, couldn't get into Scala's Bistro on Saturday evening, we headed up the hill to Rue Lepic, a small French restaurant at he corner of Pine & Mason. It's an intimate setting with only about 8-10 white-cloth tables. We had a great dinner, and I would recommend it. I've added it to my list of restaurants to head back to while in the city.
I'm looking forward to my next trip to San Francisco and adding a few more items to my list of places to check out.