OK, so the blog has gotten off to a slow start. My intention was to post at least once a week, but then life happened. Well, more specifically, a master bathroom remodel happened.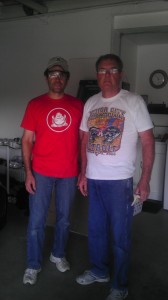 My parents came out over Thanksgiving, and my dad and I set out to remodel our master bathroom over a three week time period. At least that was the plan.
We started off strong. The demo went well, but then the inevitable home remodel items started cropping up. It didn't help that we got delayed by a power outage one evening, and I found out that tile and tile designs have different degrees of difficulty. My suggestion to Home Depot is to start putting green circles, blue squares and black diamonds on their tile to indicate the difficulty of installation. To put it mildly, I'm a green circle level tiler, and I picked out the double black version.
After a few weeks of hard work and a number of long nights, my dad and I succeeded in transforming the bathroom into something completely amazing. There is no way I could have done it on my own, and I am forever indebted to my dad for his help (truth be told, I'll just add it to the pile I already owe). He is incredible when it comes to home remodel projects. It seems like there is no job he can't do, from tiling to plumbing to electrical, even if sometimes it's the first time he's done a particular task. In the end, it all turned out good, and the pictures below are the proof.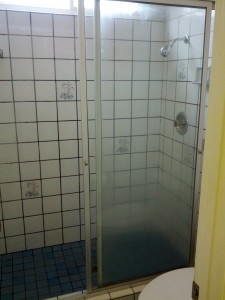 Before shot on the left, after on the right
Anyway, my goal going forward is to get into a regular rhythm of posting. I have a backlog of things I want to write about. Hopefully, I'll be able to get to them before they go stale!