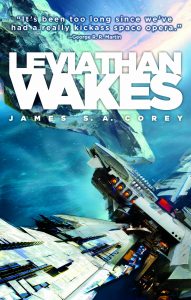 Despite being my book recommendation nemesis, Amazon can come in quite handy sometimes. I was trying to figure out how I found out about the James S.A. Corey novel Leviathan Wakes. Luckily, Amazon archives all of your orders, so I was able to trace the purchase to May of last year. My best guess tells me that it came from either an Amazon Daily Deal or one of their email book list recommendations. Either way, being a science fiction novel, it fit neatly into one of my reading genres and, since I had already purchased it, I had it on my 2016 reading list.
Leviathan Wakes is the first novel in the book series The Expanse. It was published in 2011, and Corey has since expanded the series to 6 books. It is also the basis for the Syfy TV series of the same name (trailer at the bottom of the post).
As you might expect, given there are six books and a TV series based on them, Leviathan Wakes is a good read. While the story can get a touch long at times, it is Corey's way of building the characters and the environment. What I found interesting about the book and characters is the way Corey builds the story around two protagonists. One is a "do-good" space pilot who is thrust into the reluctant role of ship captain. And the second is a washed up detective who travels across space determined to solve his last case, even after he has been relieved of duty. Of course their paths cross, and the tension and conflict between them makes for a great story.
In addition to the plot and characters, Corey also mixes in a fair amount of science fiction. It requires a little suspension of reality as we know it today, which is OK. Corey does a good job of building the environment so some of the more radical sci-fi elements aren't annoying. There is also an intriguing universe origin story hinted at in the book, and there is plenty of action, at times. There is also enough plot twists to keep you interested as Corey slowly reveals back stories and other key parts of the story throughout the book.
At the end of the day, while it's a good, well constructed book, Leviathan Wakes was a little long for my taste, and moved a little too slow for me at times. I enjoyed it, but I'm not going to move on to book 2 and the others in the series, at least not yet. As I've mentioned before, I've been doing my best to avoid long book series as I enjoy reading different authors and different stories. However, if you like getting immersed in another world and like a long, "space opera" type of saga, then Leviathan Wakes and The Expanse won't disappoint.
The TV series also looks pretty good. Here is the trailer for season 1, and season 2 is supposedly on the way.
https://youtu.be/8X5gXIQmY-E