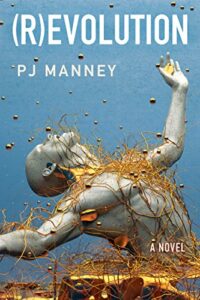 I've been doing a little better this year sticking to my reading list. I've also been doing a better job of reading books that have been languishing on my reading list for some time. The latest example was (R)evolution by PJ Manney.
I'm not exactly sure when I first discovered the book, but it first showed up on my 2019 reading list at #35. Since I usually read about 25-30 books a year, it's highly unlikely that I'll read any books below #20. So it took a couple of years to get to this one.
I'd classify (R)evolution as a science fiction techno-thriller. There's near-term science fiction elements around nanobots and implants along with plenty of action and intrigue mixed in between. When it comes to the technology, the book is a little light on the details, so it requires some imagination and suspension of belief. The action pieces can also feel a bit unrealistic, too. It's about what you would expect from a good Hollywood action film.
Manney takes her time setting the plot up, which is my biggest beef with the book. The book starts out quick, but then the pace slows while the characters and background elements of the story are developed. Halfway through, I wasn't quite sure what I had gotten myself into. Then, once the stage is set, the second half of the book takes off. In other words, I struggled to get through the first half, and then had a hard time putting the book down after that.
My only other gripe is that it's hard to like the main character, Peter, but they may have been a personal thing. There were many times throughout the story where I felt like I was rooting against him. To put it mildly, his character was a jerk, although that may have been intentional by Manney to show the impact integrating technology into the human body could have on a person's personality. You may see it differently, but it's just a warning in case you like your protagonist someone you want to like and root for unconditionally.
With that said, you would think I hated the book. On the contrary, overall, I enjoyed it and put it in my Fun Read category. It has a good blend of technology and action, which is what I like from the books on my fun list. There are a couple of other books in Manney's Phoenix Horizon series, but I'm going to pass on these for now. I have too many other books, and a few new authors I want to check out, before I get sucked too deep into a series.