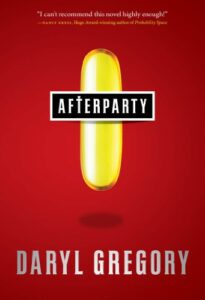 My reading list suffers from shiny object syndrome. I get bombarded with recommendations from friends, as well as my arch nemesis – Amazon. If it looks good, I'll let it jump the queue. So one of my reading goals this year was being more disciplined and reading through some titles that had been on my list for a long time, in some cases two years, three years, or more.
So far, I've done a pretty good sticking to plan. Fat Chance, Lexicon, The God's Eye View, Permutation City, Luna, and (R)evolution were all books that were added to my reading list in 2018, or earlier. The latest book I can check off this list is Afterparty by Daryl Gregory.
Afterparty is an action-based thriller. I'm not going to go deep into the plot except to say that it is based in the near future where it's possible to obtain powerful drugs by simply printing them. When one powerful brain-altering drug starts being used for nefarious purposes, one of its founders goes on a quest to make things right.
The book has a lot of the traits that I like to see in my lighter reads. Near term science fiction themes are present throughout the story. The book moves from the beginning – Gregory does not waste a lot of paper trying to explain the characters but builds them through the flow of the book. It's also very well written. I like the first person narrative, and the writing is witty and downright out-loud funny in parts without taking away from some of the serious undertones of the story.
Overall, I put the book in my Fun Read category, meaning it's a great book for a weekend getaway or long holiday weekend. It flows and will keep you engaged from beginning to end. It fell just short of my coveted Must Read category. The science fiction themes weren't as deep and developed as I like, but I wouldn't let that dissuade you from adding this title to your reading list. It's a fun book, and one that will not disappoint.