At the end of last year, I was closing in on 1,000 miles of cardio activity. I needed about 30 miles or so to break the 1K mark, so I decided to ride the Marvin Braude trail with my oldest daughter Amanda the day after Christmas. The Marvin Braude trail starts at Will Rogers State Beach at Temascal Canyon Road and stretches all the way to Torrance Beach. It's a great ride through Santa Monica, Venice Beach, Marina del Rey, El Segundo, Manhattan Beach, Hermosa Beach, and Redondo Beach. Having ridden it once before in September 2014, I figured some of the lessons learned would make for a smoother ride this time around. Unfortunately, things don't always work out as planned.
Ride Map and Profile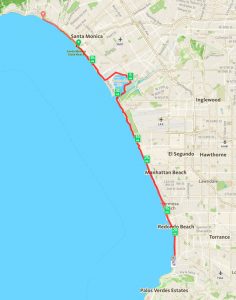 Since this was my second trip along the path, I'm not going to spend a lot of time going into the specifics of the trail. If you're interested in more details, along with a few tips and pointers, then check out the post from our first ride here. Instead, I'm going to focus on showing the overall map and profiles for the trip this time around.
The trail map is included to the right. If you want to see a bigger version of the map, just click on it to enlarge. Overall, the ride is just a little over 40 miles. My Runkeeper app tracked it at just under 40 miles for our ride, but that was because of a little hiccup at the beginning of our ride which I will touch on in a bit. The overall specifics for the ride are below.

As compared to the first ride, we did just a little better this time around. We averaged 11.8 mph for this ride compared to 11.1 mph the first time. It's not a huge difference, but every little bit counts. And as you can see below, it's a pretty flat ride since it's all along the coast. If you're interested, I've also created a chart of the mile-by-mile splits which you can see here.

The Lesson Learned on this Ride
Given this was our second time around, I had everything all planned out to make this ride go much smoother than the first time, which included us getting lost in Marina del Rey. I figured we would get to the Will Rogers State Beach parking lot nice and early so we could avoid the crowds and get home at a reasonable time. Unfortunately, an error in judgement on my part unraveled my well laid out plan.
You see, when I was preparing our bikes the night before our ride, I noticed my back tire seemed a bit lower than normal. I filled it up and figured I would check it in the morning to see if it was holding air or not. When I checked before we left, it had lost a little air, but not much. I filled up again and figured that the tire would be good for the 4 hour ride. To be safe, I threw a spare tube in my bag just in case the tire didn't hold up.
On the way down, Amanda told me that the tire would not last more than a few minutes. I didn't believe her and decided to just unload the bikes and go. I figured we could stop along the way if the tire started to go flat. Well, that took about a mile of riding on it for the tire to go completely flat. It turns out that bike tires don't get slow leaks. They just go flat once a hole appears in the tube.
Given how early it was in the morning, it was a challenge getting the tire replaced. We managed to make it to Perry's Cafe and Rentals in Santa Monica, which was about a 1/2 mile walk from where the tire gave out. Luckily, they were setting up for the day, so I was able to get some help and at least got the old tube out and the new one in. Unfortunately, their air compressor was broken, and they didn't have a foot pump that I could use to get air into the new tube. Amanda wanted to head back home, but I was determined to press on. Perry's told us that there was another bike rental place about a mile down the trail.
We ended up at Sea Mist Rentals, which after a bit of a struggle on my part to get things fixed up, their maintenance person showed up and had me on my way within 5 minutes. It's unfortunate that I didn't find Sea Mist Rentals sooner, as my travails cost us about about an hour and a half of time. Instead of avoiding the crowds, we ended having to wade through the crowd on the way back during the busiest time of the day. It also meant getting home a lot later than I had planned.
So what lesson did I learn? Bike tires don't get slow leaks like a car tire. Bike tires are either good, or they're not. The next time I notice a tire is leaking, replace it before the ride!
---
After two rides, the Marvin Braude bike path is my favorite ride in Southern California, provided you start out early enough in the morning to avoid the crowds. It is a nice flat ride that has gorgeous views looking out to the Pacific Ocean. While the ride doesn't challenge you with any climbs, it makes up for it in length and will give you a good workout. I just hope that the next time I ride it I'll have upgraded equipment that should make the ride that much more enjoyable.