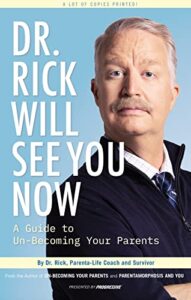 Progressive's Dr. Rick commercials are favorites among me and the family. I suppose it's because a lot of them hit just a little too close to home. I'll be the first to admit that he's nailed more than one of my mannerisms that's had the kids giving me "the look."
When I saw that there was a book coming out, Dr. Rick Will See You Now, imagine my surprise. The summary was that it was advice from Dr. Rick himself on how to not become your parents. I figured it would be a fun read. And when it was promoted as a free download from Amazon, I jumped on it.
Turns out, it wasn't what I expected.
Usually, I would title this post a book review. In this case, however, I couldn't justify it. As it turns out, Dr. Rick Will See You Now isn't really a book. It's more or less a series of Progressive commercials bundled up in print version. It reads more like a children's book with lots of pictures and few words.
So yes, I was surprised. Shocked might be a better word. And certainly, I was bamboozled. I downloaded a book that I thought would be a humorous, entertaining read and ended up being on the receiving end of an ad.
Well played Progressive. Well played.
At the end of the day, even if it is more of a promotional piece, Dr. Rick Will See You has its moments. You will find yourself smiling as you read it, maybe even laughing out loud. It's a short read that will take all of 5-10 minutes to browse through.
Fortunately, it's free to download for your Kindle, so it won't cost you anything to read the ads. And if you're part of the Goodreads reading challenge like I am, it will give you a boost in your book count for the year, which I might need to reach this year's goal of 30. Just saying, and don't judge me, please.
I couldn't end this post without including one of my favorite Dr. Rick commercials. This one was one of the first, and still ranks in my opinion as one of the best.