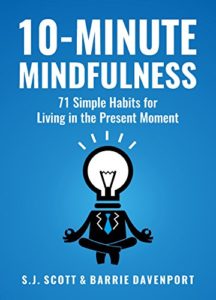 One of my goals for this year is to be more present, to live in the moment. It's a recurring theme in my meditation practices, and, as I recently wrote about, one I consistently struggle with. I have a tendency to get wrapped up in my thoughts, whether it's about the past, the future, or my latest work project. These distractions can keep me from being fully present and engaged in the now.
So what do when I'm struggling with something? I research and read about it.
Therefore, I decided to read 10-Minute Mindfulness: 71 Simple Habits for Living in the Present Moment by S.J. Scott and Barrie Davenport. I figured that I would find at least a few of their recommendations useful on my journey to living more mindfully.
With 71 habits contained in the book, it would be impossible to adopt them all. Even Scott and Davenport don't recommend it. If you did, you'd spend over 6 hours a day just on mindfulness activities, which kind of defeats the purpose. However, given the number of ideas, you're certain to find a least a few exercises that you can work into your daily routine immediately.
I captured just over 20 habits that I'd like to try. I don't anticipating incorporating all of them into my daily routine. Instead, I'd like to try them and see which ones have the most impact on my mindset. I expect to incorporate a couple of the exercises, and then revisit the others every so often to see if I should replace, switch, or add any. After all, we are always growing and changing, and what is working one day may not be as effective the next.
It's tough to give 10-Minute Mindfulness an overall recommendation The book is good, but it is focused. I would says that it's more like a reference book. If you, like me, are familiar with the subject matter and interested in developing more mindfulness habits, then it's a great book. You can read through it once and then refer back to it later for tips, suggestions, and tune-ups. If you're just starting to learn about mindfulness, being present, and living in the moment, then it's not going to be as applicable. In that case, I'd recommend starting with other books to develop a solid foundation first, a list of which I'm planning to post soon. Then it would make more sense to come back to 10-Minute Mindfulness. You'll get a lot more out of it.