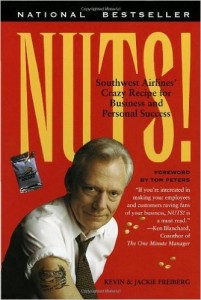 I'll admit that I've been a long-time admirer of Southwest's business model. As I've written in the past, they are a model of operational efficiency. I've always experienced top notch customer service, both on the ground and in the air, when I've flown with them. Their fares are always competitive, and often the lowest on the routes they fly. I've been impressed with Southwest as both an observer of their operations and as a passenger on their planes.
I got my first exposure to them through a case study I read in the mid-nineties while in business school at UCLA. The case study exposed and dissected their operational efficiencies. Shortly thereafter, as I began traveling regularly for business, I got to experience the flight experience first hand. I would watch with interest how quickly they would turn planes when they landed. I would notice how the little things they did allowed them to best the competition – things such as open seating, flying 737's exclusively, handling their own reservations, and flying to the smaller airports in a city. I've always been interested in learning more about how the company was run.
A couple of years back while reading The Startup Playbook, one of the interviews in the book mentioned Nuts by Kevin and Jackie Freiberg. It was presented as a way to learn how Southwest has used culture to build a great company and to deliver outstanding service. Given my desire to learn more about Southwest's business practices. I added it to my reading list. It took some time, but it finally reached the top.
Nuts talks about the history of Southwest and documents the struggles it had starting out. I had vaguely remembered that Southwest had a hard time getting started, but I didn't realize just how hard its competitors at the time fought to keep it out of the air. It's quite a feat that Southwest exists at all today. It was able to overcome the challenges and obstacles their competitors posed through perseverance, determination, obstinance, and a touch of luck.
More importantly, Nuts spends the majority of the book revealing the real secret behind Southwest's success. Namely, it talks about how the people of Southwest are at the core of its success and how they've created a strong corporate culture that permeates throughout all levels of the organization that drives both decision-making and behavior. In other words, even with the operational efficiencies the company put in place, it would not be the success it is today had it not been for the corporate culture it developed that put its employees first.
Nuts goes into detail on the culture by detailing numerous defining events that have shaped the culture. The culture was modeled by the top executives, including co-founder Herb Kelleher himself. It should come as no surprise that his personality pervades the organization and is a cornerstone of the culture. It's a trait that I've seen in the organizations I've observed and worked in. Each organization takes on the personality traits of its manager, with the management layers above influencing the behavior of the people below.
For someone unfamiliar with Southwest, many of the anecdotes talked about in the book may seem far-fetched. Stories of employees using their personal time to go above and beyond the call of duty to deliver a superior customer experience or to right a customer wrong. I would not have believed them had I not had my own story that I'll relay at the bottom of this post.
Nuts is worth reading for multiple reasons. For entertainment, it's interesting to learn more about the history of Southwest, some of the crazy things they had to do to get airborne, and the crazy publicity stunts they pulled, particularly those by CEO Herb Kelleher himself. For instructional purposes, you'll see how important it is to build a strong culture, to engrain it throughout the organization, to promote it, and to preserve it at all costs in order to create a great, sustainable company.
I wouldn't consider Nuts a Must Read  It's a bit too business focused, and the back half of the book gets a little repetitive in reiterating Southwest's commitment to its culture. However, if you like Southwest as much as I do and are interested in learning how to build a sustainable company that outlives the original founders, then I would highly recommend it.
One last note of interest. Nuts is not available for reading electronically on a Kindle. It was the first paperback book which I had read in quite some time, which felt rather odd at times. I missed being able to highlight pieces to take notes, and it made for a more cumbersome experience lugging it around on a recent trip. It also prohibited me from reading in bed so I didn't keep Lisa up. I never thought I would say that I prefer reading electronically over the real thing, but that day has come. It's official – I don't see myself going back.
---
My Southwest Story
Many years ago, in the early part of 1998, I was travelling from San Jose to Los Angeles to El Paso, where I was due to spend the night on my way to Dallas the next morning. After boarding my flight to San Jose, we were delayed on the tarmac due to weather in LA, and our flight arrived late. As such, I missed my connection to El Paso, which was the last flight to El Paso for the night. Not only was I going to not make my hotel reservation, the chance of making it to Dallas the next morning were looking pretty grim.
The Southwest gate agent, after hearing my story, went ahead and cancelled my hotel in El Paso for me, and proceeded to work with me to find an available flight that would get me to a neighboring state that evening so I could make it to Dallas in the morning. It was quite an experience, but she was able to get me on a flight to Albuquerque that would allow me to make it to Dallas in time for my meeting in the morning. She even set up a hotel in Albuquerque at Southwest's expense.
On the flight to Albuquerque, there were only about 20 of us making the trip. One of the flight attendants talked to us to find out if we were from the area, traveling on business, passing through, or on vacation. I told her my story, and she asked where I was staying. When I told her I was staying at a Comfort Inn, she gave me an unhappy look and asked why they put me there. I was just happy to have a room, but she wouldn't have it. She told me that she was on a layover in Albuquerque, but that she would not need the room Southwest had booked for her since she lived in the area. She told me to wait for the flight crew after deplaning, and that she would check me in at the Wyndham at the airport and let me use her room.
I was shocked! I asked her multiple times if it was OK, which she didn't know, but said she'd do it anyway. Here was someone I didn't know at all, yet she was trusting me to stay in a room where she could be liable for any charges (or damages) that I might rack up.
Needless to say, I treated the room better than I would my own, but I was floored by her generosity. It was a classic story of a Southwest employee going the extra mile and earning a customer for the company for life.