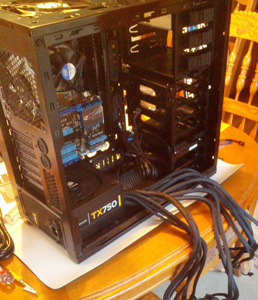 A little over a month ago, the following article appeared in my Google Reader: "Build the Best PC for Your Buck". You're probably thinking, "Who cares, and why would you want to build a PC? Tablets and Macs are all the rage these days."
Well, I think tablets are luxury items, and I like more control over the features and specs in my machines than a Mac offers. So after having gone 7 years since my last PC build, I figured it was time to jump in.
The hardest part of every PC build I've ever done is getting started. Once you get outside of the processor space, the component choices are overwhelming. Trying to choose between motherboards, RAM, power supplies, cases and video cards can take an over thinking person like me weeks to sift through. Luckily, the above article gave me a great head start and considerably narrowed the field down. Here's what I ended up buying, with the component price (prior to tax and shipping):
| | | |
| --- | --- | --- |
| Processor | Intel Core i5-3570K | $199.99 |
| Motherboard | ASUS P8Z77-V LX | $124.99 |
| RAM | Corsair Vengeance 8GB DDR3 SDRAM (4GB x 2) | $54.99 |
| Video Card | EVGA GeForce GTX 660 (Superclocked) | $199.99 |
| SSD | Samsung 840 Series 250GB SSD | $159.99 |
| Hard Drive | Seagate Barracuda 2TB Internal HD | $89.99 |
| Optical Drive | LG Blu-ray Disc Combo | $44.99 |
| Case | NZXT Phantom 410 | $99.99 |
| Power Supply | Corsair TX CMPSU-750TX 750W | $99.99 |
| Operating System | Windows 7 Professional | $139.99 |
| | Total Component Cost | $1,214.90 |
I've had the machine running for just over a week, and for just over $1,200, I have one screaming machine. It goes from power on to usable in about 15 seconds and never seems to break a sweat with anything I've thrown at it over the last week.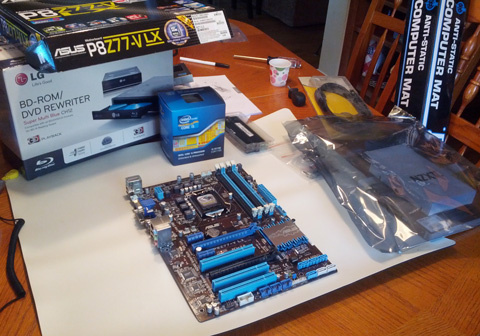 Here are a few notes and recommendations should you decide to embark on your own build project:
I didn't buy a keyboard, mouse or monitor. I just reused ones I had from the old machine. Unless you're still using a 17″ monitor, I'd recommend reusing your old keyboard, mouse and monitor in order to save a couple hundred bucks.

I couldn't justify the extra $100 for an i7 processor. Sure it would have been faster, but for my computing and gaming needs, I wouldn't have noticed it.
I went with a middle of the road motherboard and saved about $50 forgoing the wireless connect module, which isn't an issue for me since my house is wired.
Looking back on things, I probably should have went for 16GB RAM, but that's an upgrade I can pursue later should I need it.
The video card was complete overkill, I ran the machine for a week using the motherboard's built-in video and didn't have any problems. I don't game enough to justify the expense, but boy does it look good when playing Bioshock. By the way, if you get this card, make sure to get at least a mid-tower sized case, you'll need the room for the card.
The Solid State Drive is the crown jewel of the system. Every computer I build/buy from here on out will have an SSD. Sure, the cost per gigabyte isn't nearly as good as an internal hard drive, but considering I go from power on to fully operational in 15 seconds, the extra expense is totally worth it. Turn-off/shutdown is equally as fast.
The hard drive was unnecessary as well, but $89 for 2TB of storage? I couldn't pass it up.
I could have settled for a straight DVD drive, but I figured I should splurge and spend the extra $30 for Blu-ray, just in case any future games, programs or storage discs use that format.
The case is awesome and just looks cool. I really like all the open spots and fans that keep everything running cool, and there's plenty of space inside to work with when installing components. I also like the idea that the power supply is placed at the bottom of the case, which helps to keep it a bit cooler and keeps the fan noise down.
Ah, the operating system. A friend of mine told me that I should get Windows 8, but I couldn't bring myself to do it. I need a machine that I can do work with, and I don't have the patience to fool around with a new operating system. Plus, I've heard that Windows 8 works best with a touchscreen interface, so I'm waiting to take the Windows 8 plunge until I get a touchscreen monitor.
Overall, I'm really pleased, and I'm really thankful for the folks at Maximum PC for simplifying the component selection process. If the lifetime of my last machine is any indication, I suspect that I'll be using this rig for the next 7-10 years.