Streaming music has went through some controversy during the first half of this month. It started when Taylor Swift pulled her latest album from Spotify, saying she didn't want to participate in a "grand experiment" that didn't properly value her music. She went on to further clarify her position in an interview with Time magazine. Spotify CEO Daniel Ek responded in a blog post saying that artists are being paid fairly by the service. My daughter also chimed in with an interesting college student point of view.
Both sides have valid arguments, but in my opinion, streaming is here to stay. I find it a great way to discover new music and rediscover old favorites. I also use it as a modern day version of the radio, often putting playlists or "stations" on in the background while working or doing things around the house. I have a streaming station on as I write this blog post.
I've been streaming for the better part of a decade. I started back in the early days with services from MusicMatch and Rhapsody. I was particularly fond of MusicMatch when it first came out. It had a great library of songs. As you may recall, streaming wasn't available for your car back in the day, so I would mark my favorite songs, purchase them, and burn CD mixtapes for listening to in the car.
I found a lot of new artists back in the day that I would not have found on my own – A Perfect Circle, Hoobastank, Chevelle, Alien Ant Farm, Saliva, Trapt and Silverchair are just a few that come to mind. These are bands that I would not have looked for on my own. A lot of these bands never achieved mainstream popularity, and they weren't popular in my circle of friends. Had it not been for streaming, I would have never heard their music or purchased it.
It's the main reason why I continue to stream music. I've since used services like Pandora and Microsoft's Zune Music Pass for streaming, but now I've settled on Google Play Music and Amazon Prime. There are my go to music streaming services.
Google's Play Music
Google lured me into their Play Music service through their locker and matching service. You can upload up to 20,000 songs for storage on Play Music that you can then access through any device, whether it's your computer, an Android phone, iPhone, or Chromecast. I've found it a great way for me to make a few playlists so I can use my phone as my music player for working out at the gym or for streaming music in the car.
Google later added their streaming music service. I took advantage of the early sign-up offer, which allowed you to get the service for $7.99/month. Their service permits streaming of any song in their catalog on demand. At the initial launch, they provided a few genre stations, but the choices were fairly limited.
Over the summer, I was contemplating dropping the streaming part of the service as I wasn't finding it a great vehicle for new music discovery. Recently, however, they added a "mood" capability. It's a feature they integrated into Play Music from their Songza acquisition this past summer. It's a feature that I've become addicted to over the last month.

The mood capability shows up when you jump into Play Music. It starts with a list of 6 moods that are generally a reflection of the time of day and your music tastes. For example, the morning will normally start with a mood like "Waking Up" or "Working Out", while a typical mid-day mood during the week may be "Having Fun at Work." The moods are available across all devices, and it has given the service new life for me. I don't anticipate dropping the service, and it's my go to service when I'm looking to listen to music.
Amazon's Prime Music
My second favorite service is Amazon's Prime Music. I probably wouldn't subscribe to the service on its own, but as part of Amazon Prime, it's worth it.
The streaming music side of Amazon Prime is pretty limited, but I find the playlists the best part of the service. They have a pretty extensive list where you can find just about any "mood" that exists in Play Music. The difference is that you have to find the mood in Prime Music, whereas Play Music recommends the moods for you.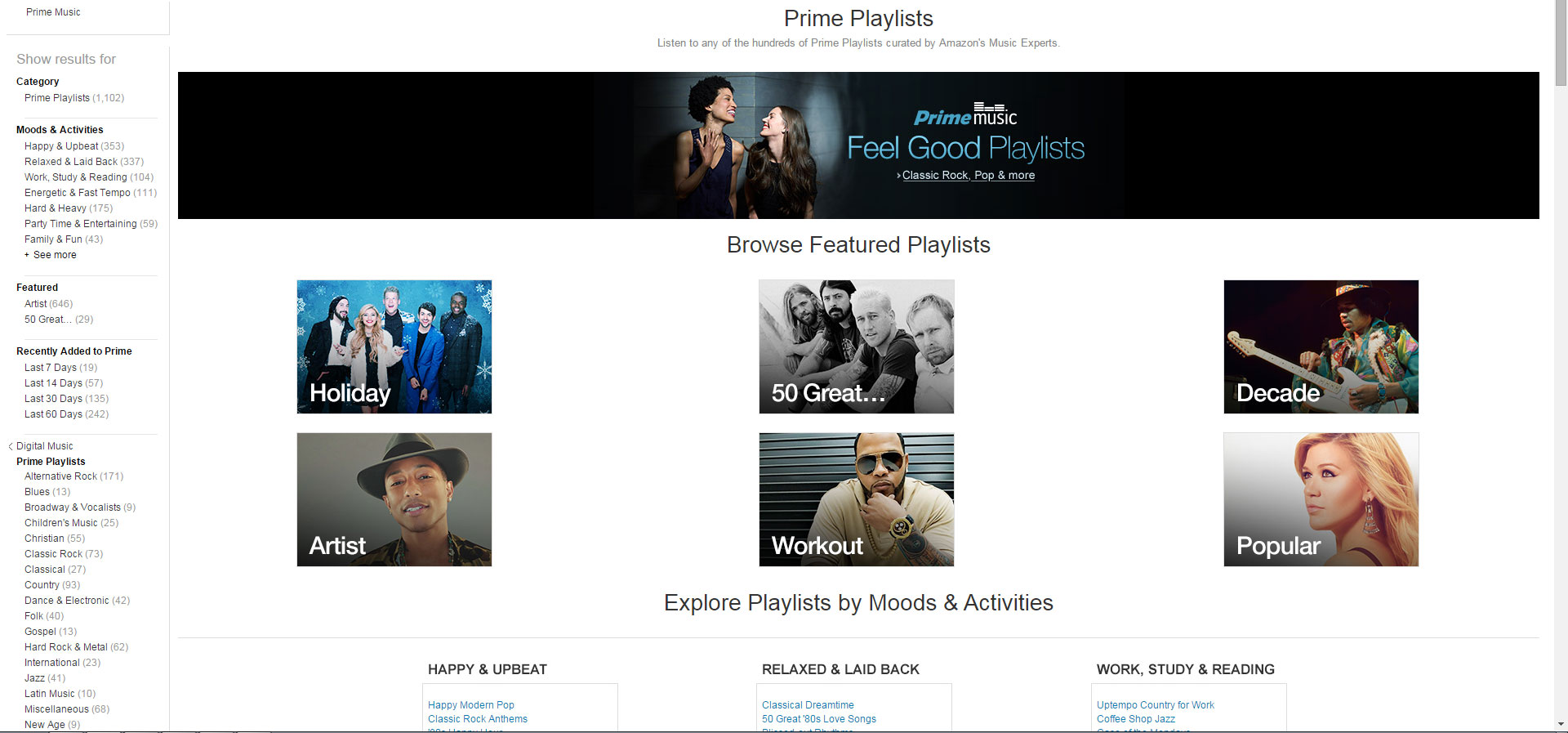 Regardless, when I want to mix things up a bit, I'll head over to Prime Music. I like that the playlists are fixed in size. In addition to grabbing a mood, I'll often grab one based on size so I don't lose track of time. I've even been able to find a few new tunes through their playlists.
---
The bottom line, there's lots of great streaming services out there. While mine are Google Play Music and Amazon Prime Music, services like Spotify and Pandora are also worthy of consideration. I'd highly recommend checking one out and subscribing. It's the new radio, and it's a great way to find new music or reconnect with old favorites.