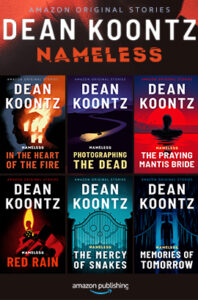 For my latest foray into the short story genre, I decided on the Nameless series by Dean Koontz. I found about it through an Amazon email when Season 2 was released, but I figured that I would start with Season 1 to see if I liked the story arc.
It was also a good chance to gain exposure to Koontz' writing. He's a prolific author who has written dozens of books. Instead of starting out with one of his long form novels, I figured a few of his short stories would give me a good feel for his other books.
Nameless is a series of 6 books centered around a vigilante who has had his memory erased. He has no memory of his past, who he is, or even his name. He is funded by a mysterious group that provides him with money, transportation, fake identities, and whatever else he needs, including weapons, to serve justice and help those who have been wronged and overlooked by the system.
There are six books in each season. I'm not going to go through each individual book as the plots are generally similar. Nameless is sent to a destination, given specific instructions on his mission, and then proceeds to carry it out.
Each story is self-contained with little tie-in to the prior books, and each reads like an episode of a Netflix, Amazon, or HBO mini-series. I'd even go so far as to compare it to Dexter, although it isn't quite as dark or graphic. What I'm getting at, I suppose, is that the series seems like it is made for the small screen. I'm surprised it hasn't been turned into a series, particularly based on what I read in Season One.
Nameless is a fun read. It's entertaining fiction, and each story can be read in one sitting. For me, it's a little too topical and doesn't involve any science fiction themes, which is why I don't plan on picking up Season Two. However, if you enjoy light, entertaining reads that you can rip through in 30 minutes or so, then Nameless is right up your alley.
For a little more background on the series and insight into the character known as Nameless, here's a short interview with the author, which I always find interesting.