Don't ask why, but somehow through the month of December I ended up buying a Fire TV Stick and a Fire TV. What makes it even more baffling is that I already own a Chromecast. Ok, I'll admit it, they were impulse purchases.
Now that I have all three devices, I've been able to do a little comparison of the pros and cons of each device. Here's what I like about each, what isn't so great, and some recommendations.
(Clicking any image will take you to the description for that device)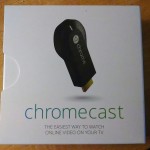 Chromecast by Google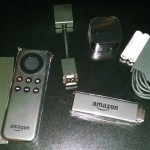 Amazon's Fire TV stick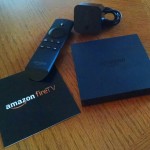 Amazon's Fire TV
Chromecast
The beauty of the Chromecast is its simplicity. Inside the box, you get the HDMI dongle, an HDMI extender, and a USB power adapter with the USB cable. It doesn't come with a remote, so you have to have a smartphone or tablet to "cast" items to your TV. Luckily, it works with both Android and iOS devices. Depending on your point of view, no remote can be a pro (nothing to lose) or a con (increases the complexity).
It's very easy to setup. You simply plug the dongle into your TV, load the Chromecast app on your smartphone, and then the app will walk you through the steps. It takes approximately 5 minutes (or less) for you to be up and running.
The things that I really like about the Chromecast:
I store a lot of my media content with Google, so the Chromecast makes it very easy to cast the content through my amplifier and television setup
Anyone who is on your network can connect to the Chromecast with their smartphone. In some apps, such as YouTube, multiple people can cast at the same time. It allows people to add to the queue so you can have a "YouTube party" with everyone participating by casting their favorite videos to the screen.
There are some fun group games that you can play on the Chromecast. Two of my family favorites are Big Web Quiz and Emoji Party.
The biggest issue I've had with the Chromecast is that Amazon Instant Video content is not available. All other major apps I use have some sort of casting ability, such as Netflix, Watch ESPN, YouTube and HBO Go. Since Amazon is competing with their Fire TV product line, I don't expect to see Amazon content on Chromecast anytime soon.
Fire TV stick
As far as the contents of the box is concerned, the Fire TV stick is very similar to the Chromecast. The only difference is that you get a remote. The Fire TV stick has one, Chromecast doesn't. The setup is also very similar. You plug the stick into the HDMI port of your television, and the on screen guide walks you through the setup. Just like the Chromecast, the Fire TV stick was operational within 5 minutes.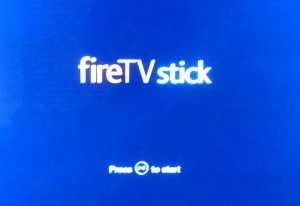 When operating, the Fire TV stick works very differently than the Chromecast. It's very similar to a Roku or Apple TV in that it uses apps installed on the stick to display content. From what I can tell, all of the major content providers have apps available for the stick. More importantly, you can access Amazon's Instant Video library, which is a key advantage of the stick if you are an Amazon Prime member.
The other thing I like about the Fire TV stick is the casual games that are available. They are the same as the games you can download for your phone or tablet except that you can use the remote to play them on your big screen. Games like Crossy Road and Hill Climb Racing are simple games that are fun to play with the family. Unfortunately, they are only one player games, but they are still fun to play. They can also be quite addictive, so be careful!
The downsides for the Fire TV stick are that it operates solely on Wi-fi (like the Chromecast) and doesn't provide 5.1 sound options. It also lacks voice search using the remote, but that's a minor issue. Due to the lack of a wired connection and enhanced sound options, the Fire TV stick works best as a way to make a second television a smart TV. For your primary TV, I would opt for a more full-featured box like the Fire TV, Apple TV, or Roku.
Fire TV
After getting a Fire TV stick, I had pretty much written off the Fire TV. I mean, why would I need both? Then, I got an email during a low point in my will power close to the holidays – the Fire TV was on sale for $79. I hemmed, I hawed, then the lure of a wired ethernet connection and 5.1 surround sound allowed me to justify clicking the "Buy" button.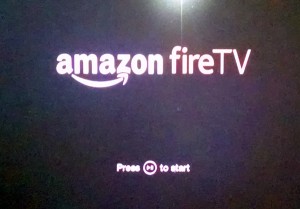 The Fire TV is just as easy as the Fire TV stick to setup. You plug it in, connect it to your network, enter your Amazon account information, and you're Fire TV is operational. The interface and the way it works is exactly like the Fire TV stick, so there isn't any learning curve when it comes to launching content and games. The only significant functional difference is the addition of voice search on the remote, which isn't that big of a deal.
While you can connect it to your network using Wi-fi, I like that it has a wired connection. The Wi-fi in my family room isn't great, so connecting directly to the router helps prevent any performance issues like buffering due to congestion or interference on the Wi-fi network. The addition of Dolby Digital Plus surround sound is an added bonus and makes the movie watching experience just a little nicer. The Fire TV also has voice search with the remote, which is a bit of a gimmick. However, I've been surprised at how well it works. Nearly everything the family has thrown at it has been properly recognized.
In my opinion, the Fire TV is the best of the bunch for your primary TV. For one, it has surround sound. Second, it doesn't require the presence of a phone or tablet. Just pick up the remote and you are ready to go. Finally, it brings a little more oomph in terms of specs, so you don't see any hesitation or lag in playing content. If I was only going to keep one of the three devices, this would be it. The extra $40 is worth it.
---
After owning all three devices for a couple of months, here are my recommendations:
Pick Chromecast if….
You are heavily locked into the Google/Android ecosystem and purchase or store all of your media content there – photos, music and movies. It's also a great option if you watch a lot of content on YouTube since the integration is very clean. It's also worth it for the interactive group games that can make for an enjoyable evening with friends and family. Plus, you can usually get it at $5-10 cheaper than its $35 retail price making it a great impulse buy. Plus, Google usually provides offers for free services and movies which means that, over time, there's a good chance your Chromecast will pay for itself.
Pick Fire TV Stick if….
You already have an Apple TV, or Chromecast, are an Amazon Prime member, and want quick access to Amazon Instant Video. At $40, the Fire TV stick is a great deal to take advantage of your Prime video and Prime music subscription. If you add in the photo storage offered with your Prime membership, you can also use the Fire TV stick as a photo viewer. Plus, you don't need to be tethered to your smartphone to use it. The Fire TV stick is a great stand alone device, although I would recommend it for a second TV. I would pick a more substantial device, suc as the Fire TV, for your primary set.
Pick Fire TV if…
You don't already own a Roku or Apple TV and want a streaming device for your primary TV. If you're an Amazon Prime member, I would put the Fire TV at the top of your wish list. Just wait for it to go on sale (Amazon periodically makes it available at $84 or less), and then pick one up. For the extra few dollars over a Fire TV stick, you'll get all the same functionality with the addition of surround sound and voice search. It's a great little box, whose diminutive size will both surprise and delight you. It's easy to use, gives you direct access to Amazon Instant Video, and has all the main media apps that you want – Netflix, Hulu, Watch ESPN, HBO Go, Showtime, Vimeo, Youtube, and more. It also has casual games available for passing the time.
If you can't make up your mind…
You may want to consider all three as they each serve a different purpose or niche. The Chromecast lets me quickly connect to my Google content and play group games. The Fire TV stick works great in our second TV room so someone else can watch content without having to take over the primary television. The Fire TV gives us the upgraded media experience and access to Amazon Instant video titles.
Best of all, none of these are embedded in my television. If the technologies for streaming media moves forward or a new service comes out, I can upgrade my devices for a small price without having to change out my entire television set. It's why I continue to wonder why the manufacturers insist on making their televisions smart. I really wish they'd stop.