I had the opportunity to spend a weekend in the Ann Arbor, MI area recently with my son Brad who is attending nearby Eastern Michigan University. During my visit, I discovered two great places that are worth a quick mention – Roos Roast Coffee Works and The Ravens Club. I always enjoy discovering places that are off the beaten path and different than your typical franchise establishment. Roos Roast and The Ravens Club fit both of these criteria to a "T".
---
Roos Roast Coffee Works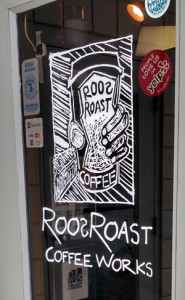 For a business meeting Friday morning, the person I was meeting suggested we try a new place that isn't your normal run of the mill Starbucks. As I wandered my way into the industrial area where Roos Roast is located, I knew I was either in for something special or something forgettable. Fortunately, it ended up being something special, and very special at that.
Roos Roast isn't a big place, and it may not have the same polish as a franchise, but they do coffee and espresso, and they do it well. The Americano I had was full of flavor and very smooth. The person I was meeting had a Latte, and she was equally impressed. It was so good in fact, that I went out of my way on Saturday morning to grab another Americano before meeting up with Brad for lunch.
Bottom line, if you're in Ann Arbor area and looking for an outstanding cup of coffee to get your day started, I strongly suggest going out of your way to make a stop at Roos Roast. It's worth the effort. You can find Roos Roast Coffee Works at 1155 Rosewood St in Ann Arbor.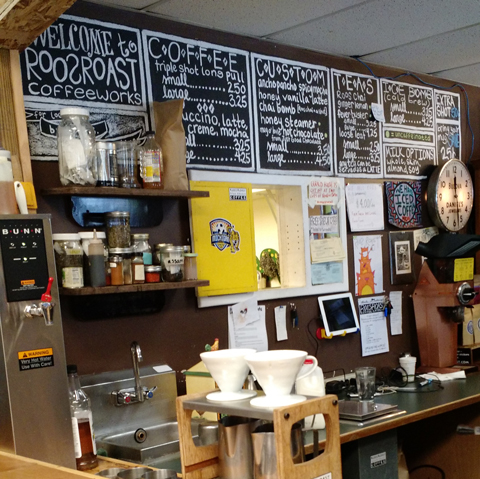 ---
The Ravens Club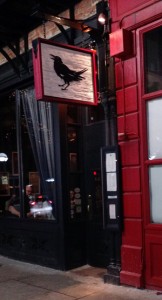 For dinner Saturday night, Brad and I figured we'd try a place along Main Street in Ann Arbor. After passing quite a few restaurants (and there are quite a few along Main Street), we decided to duck into The Ravens Club. We had no idea what to expect, but to say we were pleasantly surprised is an understatement.
First of all, the atmosphere within the restaurant is well done. It has a simple elegance that feels upscale but in a casual manner. The menu has a strong selection that is different than what you'd normally expect. In addition to somewhat standard faire, you'll also find items like Rabbit Pot Pie, Chicken Liver Mousse, Duck Prosciutto, and Peanut Butter & Jelly made with date jam and goat cheese on cran-walnut bread. Brad and I had their Old School Pierogies as a starter, which were outstanding. We were equally impressed with dinner – he had the salmon, and I had a maple glazed slow roasted pork dish over grits. I'm not a huge fan of grits, but these were quite good.
In addition to the food, they have a great wine selection and even more comprehensive bourbon and whiskey menu. The staff is very knowledgeable regarding the bourbon and wine. For example, when my first bourbon choice was sold out, the staff recommended an alternative that was every bit as good.
I would certainly recommend The Ravens Club, and I plan to go back the next time I am in Ann Arbor. The selection of food and drink is great, portions are satisfying without being too much or too little, and the overall price for a dinner is quite reasonable. The Ravens Club is located at 207 S Main St in Ann Arbor, which is between Liberty and Washington streets.
---
As a footnote, I also made it back to Beezy's in Ypsilanti for lunch with Brad on Sunday. I went there with Lisa when we dropped Brad off for school last August, and it was just as good as I remembered. It's a great place to grab breakfast or a sandwich if you're ever in the area.