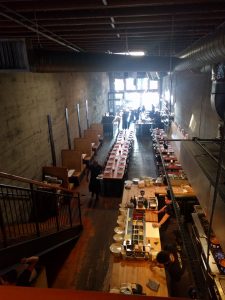 In addition to sampling Seattle's coffee and ice cream scene (two of my favorite indulgences, by the way), I had the opportunity to check out a few restaurants during my time there this summer, too. The restaurant selection in Seattle is large, diverse, and good – very good. It doesn't top San Francisco or New York City in my opinion, but it certainly holds its own. Of the numerous places I tried, here are the ones that stood out. They're the ones that I hope to get back to someday and would recommend to anyone visiting the city.
Tavolàta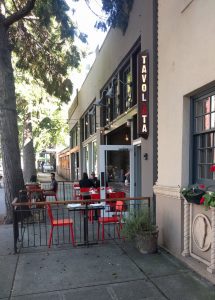 After a busy Saturday during our June trip, I turned to the internet in search of an Italian restaurant which I knew Lisa, Courtney and I would like. Tavolàta appeared in the results, looked good, and was on our way home. We thoroughly enjoyed everything we ordered, which included salmon, ravioli, and a salad. The ravioli was so good that we ordered a second plate, which is not part of our normal routine.
It's location in Belltown is excellent – just as good as the food. It's also one of the Ethan Stowell Restaurants, which I didn't know at that time. As you'll see below, I've had good experiences at Ethan Stowell Restuarants. I'm looking forward to trying out more of them on future visits.
Crow
When I made reservations to eat at Crow, I felt like I was taking a risk. My mental association with the word crow does not conjure up positive imagery. But we wanted a place to eat that was near the Space Needle which we were planning to visit later in the evening. Situated in Lower Queen Anne, it's a short walk from the restaurant to the Seattle Center.
Well, we were impressed. The food was outstanding. None of us were disappointed with what we ordered. The only disappointment was that we couldn't sample more from the menu.
Bramling Cross
One of my favorite areas in Seattle is Ballard. Besides being home to one of my favorite ice cream places, Salt & Straw, it has a lot of great restaurants. It also has a great vibe.
When I selected Bramling Cross to eat at, I didn't realize it was another Ethan Stowell Restaurant until after we sat down. And just like Tavolàta, we thoroughly enjoyed our meal and the overall experience. Best of all, it's just a short walk down the street for dessert at Salt & Straw – make sure you save room!
bruciato
On a spur of the moment, we decided to take the ferry to Bainbridge Island. It was well worth it. Not only was the boat trip across Puget Sound enjoyable, but we had fun walking around the shops on the Island. During our exploration, we stumbled into bruciato. They're known for pizzas, and for good reason. We also saw a lot of people ordering the Polpettine (pork and beef meatballs), so we decided we should, too. It was an excellent choice.
Yes, it's a little out of the way since it requires taking the ferry to get there. However, if you do end up on Bainbridge Island during your Seattle visit, bruciato is worth checking out.
Levitate Gastropub
I wanted to do at least one hike during our trip. We ventured out to Poo Poo Point, which is just outside of Issaquah. The trek to the top is a challenge, so be prepared if you go. If you're fortunate, you may catch a glimpse of paragliders taking off when you get to the top.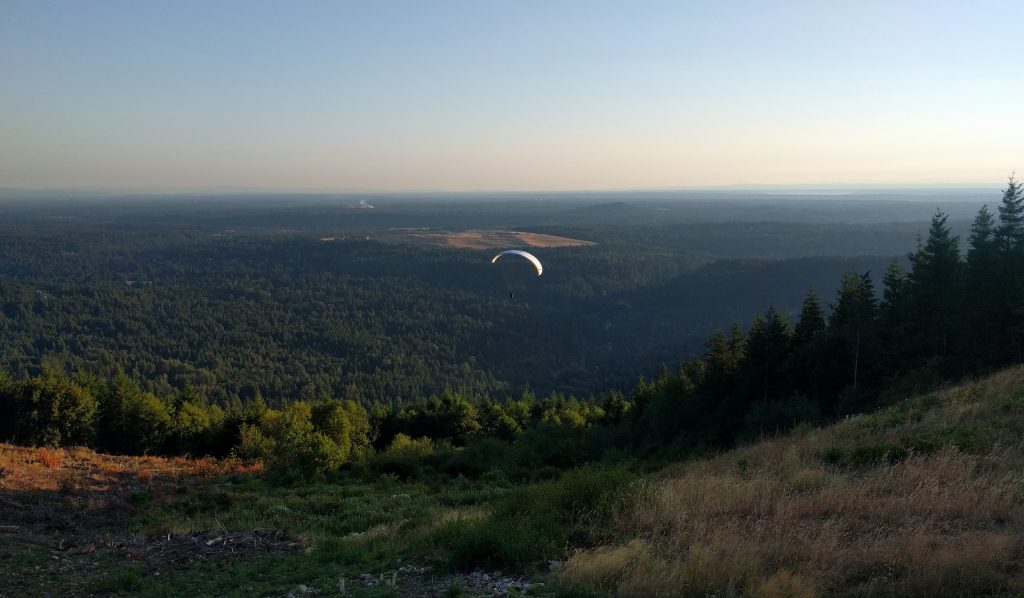 On our way home, someone I met while having coffee recommended Levitate. It was close to the trailhead, so I figured why not? Levitate is your typical gastropub. It has both good food and good beer. It's also in a great location in the historic downtown area of Issaquah. So if you do make your way out to Poo Poo Point (yes – it really is called that), be sure to stop at Levitate on your way home.
Local 360
Looking for a brunch spot on Sunday morning, we came across Local 360, another restaurant in Belltown. What makes Local 360 interesting is that it sources its ingredients from places that are within a 360 mile radius of Seattle. We enjoyed the brunch on our June trip so much that we made another trip back in August. It should be obvious when you're there, but if not, be sure to order their biscuits. They served ours with an amazing raspberry jam, and I am not a big of fan of jam, or raspberries!
Pike Place Chowder
OK, this one is going to be a bit touristy, but I can't help it. I'm a sucker for good chowder, and Pike Place Chowder is some of the best I've had. It's in the heart of Post Alley in Pike's Market. During tourist season in the summer, it can easily be a solid 30 minute plus wait to get your fix. I don't know if it's worth that long a wait, but it's close. If I walk by and find the line reasonable, I'm in. Don't forget, their rolls are just as good as their chowder.
I'm partial to the location in Post Alley, mostly for the atmosphere. They have a second location in the Pacific Place mall a short walk away. The line is usually much shorter. It's a solid alternative if waiting in line isn't your thing.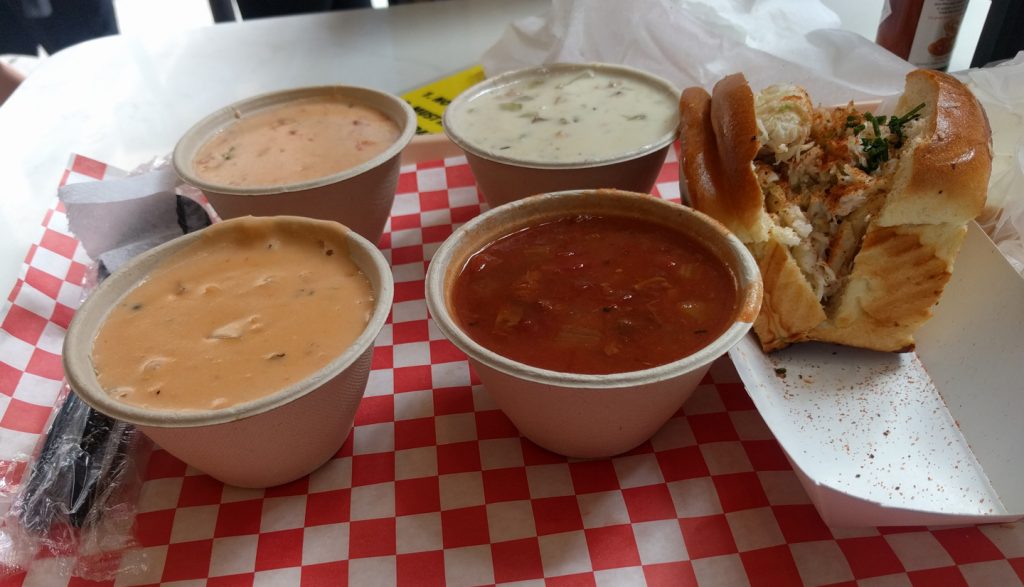 Agave Cocina & Tequilas
After spending over 25 years in Southern California, I get nervous eating Mexican food when I'm too far north of the border. We were hungry, looking for something quick, and Agave was right there. Was it the best Mexican food I've ever had? Not even close, but that's not fair given what I have access to. Was it good food and a place I would go back to and recommend? Absolutely! I'd say you'd be hard pressed to find Mexican fare in Seattle that's much better than Agave.
---
It should go without saying that we had a great time in Seattle during our visits this summer. We were extremely fortunate that Courtney landed an internship there that gave us an excuse to visit a couple of times. I certainly hope that it won't be our last. I'm looking forward to returning and exploring more of Seattle's food offerings. If there are any places that you'd recommend I add to my list for next time, let me know in the comments!