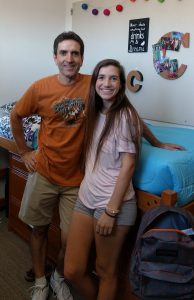 I spent last weekend on the University of California Davis campus. Well, technically, I spent it in the Tercero Housing Area with Lisa doing our third college drop-off with my daughter Courtney. You would think the experience of having done two college drop-offs already would have made the third one easier. It didn't. I suppose it's never easy helping one of your children leave home.
As with our other drop-offs, the weekend was a blur. There was the 12 hours or so of driving back-and-forth, the carrying of boxes and suitcases up four flights of stairs, and the discovery of nearly every Target in the Sacramento-Davis area. There was also the unpacking and organization of which I did my part by staying out of the way. Truth be told, I ended up napping on Courtney's newly made up bed while Lisa and she did all the unpacking and arranging of closet, clothes, and desk items.
There is definitely a distinct difference between moving your son and daughter into their college dorm room, which can be summed up in these two pictures.
Here is Brad after we had completed a Costco and Target run to stock him with food, water, and other items and unloaded all of his stuff from the car. Lisa and I got a good laugh at all of the girls moving in who had, on average, at least three times as much stuff as Brad. We were bewildered at how they were going to fit all of their stuff into those tiny dorm rooms.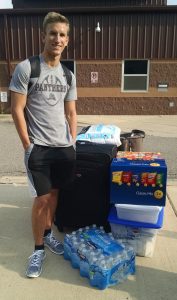 Here is a picture of Courtney with her stuff BEFORE we went to Costco and Target to get her the miscellaneous items we couldn't fit into the car. Needless to say, we turned into one of those people that we watched in wonderment during Brad's move-in.
At the end of the day, everything went as well it could have, and Courtney and Lisa somehow figured out how to shoe horn everything into the room. It was a bit of a long weekend, but it was successful. Hopefully, Courtney's entire freshman year will go as well as the move-in.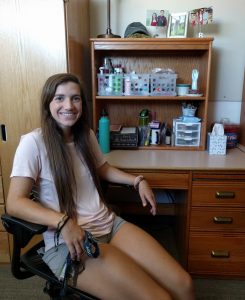 Best wishes and good luck to Courtney, and hoping she has a successful freshman year!