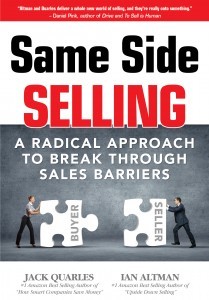 As part of running my own company, I'm always looking for ways to improve various pieces of the business and my performance in it. Since one of the most important parts of any business is the sales process, I am constantly on the lookout for resources that will help me to understand the process better and to identify ways to improve it. Amazon must know it too, because their recommendation engine suggested the following to me – Same Side Selling: A Radical Approach to Break Through Sales Barriers by Jack Quarles and Ian Altman. Even though I'm not in love with the Amazon recommendation engine, I went ahead and picked it up.
I typically have a healthy does of skepticism when I read business books, particularly those regarding selling. Most sales process books focus on identifying decision makers, uncovering objections, and getting to "yes". While I think the word "radical" is a little over the top to describe the approach Quarles and Altman describe, it is definitely a little different when it comes to the sales process. The primary point in the book is that a successful sale and on-going relationship occurs when the seller and buyer avoid the adversarial trap where the seller and buyer are always working against each other. They propose an approach where the seller works together with the buyer to build a solution, or offer a product, that solves a specific problem for the buyer.
Employing the same side selling technique requires a different way to think about the sales process and the business. In other words, the early parts of the book are as much about identifying your business strategy as much as it is about improving your sales process and approach. These parts are a critical setup for the meat of Same Side Selling, because without examining your business strategy's strengths and weaknesses, understanding what problem your solution (or product) solves, and knowing who your target clients and how to identify them, Same Side Selling is a difficult technique to employ effectively.
My experience with the book is that it started out slow for me and became more interesting as I read it. I found myself taking more and more notes as the book wore on. I was pleased that they included a lot of actual examples of same side selling from clients they've consulted for. Plus, unlike many business books, they provide actionable recommendations that can be employed in your business immediately.
What stood out the most for me was that the book approaches the sales process in an ethical, value-driven manner. Their techniques are not about how to drive a client to "yes" or to encourage them to sign a contract. Instead, they take a long-term view to the sales process and drive the delivery of value to the customer as the basis for a long-term relationship. It's a theme that resonates with me as it reinforces the approach that I take in running my business. While I may not be successful at forcing customers into doing business with me, I find that my best clients are those where we work together to identify their problems and pain points, and then we develop and deliver a solution that provides value.
Bottom line, Same Side Selling is as much a book about business strategy as it is a book about selling. It shouldn't surprise given the importance of sales. Sales should be considered, and is, the lifeblood of the business. The book is a must read in my opinion for anyone who is operating any type of business, and it's a critically important must read for any one involved in a business-to-business sales role. I'm certain that I will revisit the book often, and I'm also certain that I will end up employing many of the concepts that Quarles and Altman describe in their book.