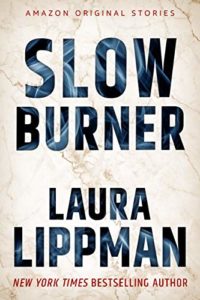 Next to science fiction, the short story format is one of my favorite types of fiction to read. I love how an author can capture your imagination and compress an engaging story into a compact form. I especially like how a really good short story comes to a close but leaves you with unanswered questions. It forces me to replay the story over and over in my mind and allows me to fill-in the blanks.
Amazon, my nemesis, has been doing a great job putting together short story collections. After reading their Forward collection, I recently finished reading the six short stories of their Hush Collection. Instead of reviewing each of the books individually, I'm going to focus on my favorite of the group, which was Slow Burner by Laura Lippman.
---
You can see my ranking of all the books in the Hush Collection here: Ranking the Amazon Hush collection of short stories
---
Slow Burner is a story of betrayal and deception. The main character, Liz, feels like her marriage is stuck in neutral. Text messages she finds on her husband's phone suggest he may be having an affair, but she doesn't have the hard evidence to prove it. Her desire to save her marriage and get to the bottom of what's really happening leads to a shocking twist that will have you replaying the story over and over trying to piece together the unwritten ending.
Slow Burner had all the elements I love in a short story. It had a limited number of well developed characters. There was a shocking plot twist and reveal. It had an unwritten ending that you get to piece together. You can easily read it one sitting.
As with the Forward Collection, I liked all the short stories in the Hush Collection. But Slow Burner, for me, stood above the rest. In my opinion, it's a must read and a great lead-in to the rest of the stories in the collection.