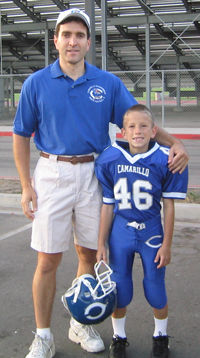 After ten years of coaching football, I've decided to hang up the whistle. It's time to retire.
It's been an amazing experience and quite a run. Little did I know when I dropped Brad off for his first football practice in 2004 that I would go on a ten year journey that would take me on an roller coaster ride of incredible highs and lows and introduce me to people who would become more than just passing acquaintances, but lifelong friends.
I still have fond memories of that first season. Brad was eight years old and had wanted to play football since I took him to a UCLA game at the age of three. He was young and on the small side for his age, and he looked tiny compared to the other players on the field. My intent was to keep an eye on him during practices since I worked nearby, but I quickly found myself holding bags, and then being asked to be an assistant coach. I had only played one year of organized football myself in junior high and had no prior coaching experience. The team's head coach desperately needed the help, and so I agreed to do it.
Luckily, the head coach knew his X's and O's, and he knew them well. We didn't do well our first season, only winning one game. By our third year, the head coach had developed a finely tuned system that he built on three fundamentals – heart, discipline and attitude. We rode that system to the championship game (PYFL Super Bowl) in our third year where we lost our only game of the season. It was an incredible season, and quite the ride, both on and off the field.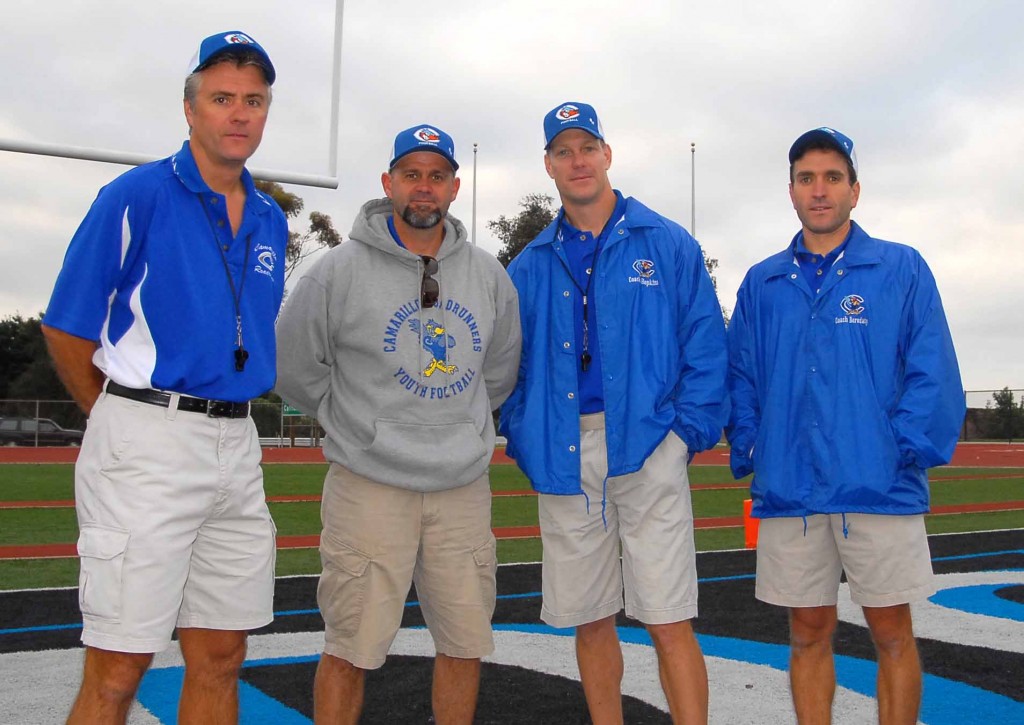 After our Super Bowl season, the head coach moved away and left me to take over the team. As an assistant, you develop a bond with the players, but as a head coach, that bond escalates to a whole new level. I felt personally responsible for the safety of 20+ young men every Saturday when we took the field. I would study film, prepare for practices, evaluate players, and install game plans that gave us the best chance to compete and win.
I was head coach for two seasons – one which was a .500 season, one which was a 7-1 division championship season. We didn't have much luck in the playoffs either year, but the success of our seasons was measured by more than just playoff success. We had an incredibly close-knit team, and I felt our boys continued to learn about the importance of having discipline, heart and a winning attitude. Those two years were clearly the pinnacle of my coaching career. I'm not sure I will ever get the opportunity to coach a group of individuals that were that dedicated and committed to success. Those boys felt like an extended family to me and still do. I enjoy every chance I get to talk with them when I see them around town.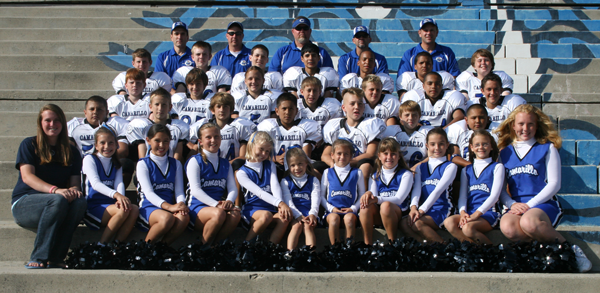 I went back to being an assistant for Brad's last year of youth football, where we were able to participate on a Super Bowl winning team. My most vivid memory of that championship game was being on the sideline when Brad made a game saving tackle on a two-point conversion to seal the game. In fact, it might have the highest I've jumped in my life, getting all of about 6 inches off the ground!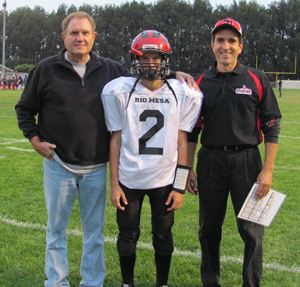 After that year, a former assistant of mine pulled me out of semi-retirement to run the offense at Rio Mesa for Brad's freshman year. What was supposed to be a one year commitment turned into three. After every year, I was determined to retire, but the energy and excitement of the game kept me bringing me back. Sure it was a lot of time commitment and work for basically no pay, but it was worth the experience.
This past year, I finally pulled back and didn't do nearly as much, deciding to focus on Brad's senior season. I merely helped out the varsity team with play charting. The position allowed me to be on the field for Friday nights, which meant I got to be on the field for every one of Brad's football games – from his first youth game at the age of 8 to his final one at the age of 17.
Overall, I have some incredible memories from football, and here a just a few of the higher points:
Our undefeated regular season in Brad's third year
Our head coach had fine tuned his system, and it showed as we got better each game. The best win of that regular season occurred when our defense stopped a two-point conversion at the end of the game to preserve a 14-12 win.
2006 Championship game
In a rematch of a game we won earlier that season, we fell behind 16-0 midway through the second quarter. We slowly clawed our way back and scored with just under a minute remaining to pull out an 18-16 win to secure a spot in the PYFL Super Bowl.
First game as a head coach in 2007
I had spent three years on the sideline, but I had never felt the adrenaline rush of taking the field as the head coach. Luckily, I managed to keep my calm enough that I was able to help guide the team to a victory in my coaching debut.
Clinching the division in 2008 in the rain at Camarillo High School
It had rained the entire day, and the field at Camarillo High School was a sloppy mess. We scored a late touchdown when our backup quarterback, a girl, had to take over for a couple of plays and threw a perfect touchdown pass off of a play-action fake.
The 2009 Super Bowl
After jumping out to a big lead, our defense had to stop a 2-point conversion to seal the win with just over a minute left. Our opponent tried a trick play, a throwback pass to the quarterback, but Brad, who was playing corner at the time, stayed home and broke up the pass to secure the championship.
Freshman season 2010
Moving to the high school level, even as an assistant on the freshman team, was a big jump. Still, as the offense coordinator, we executed great in our opener and pulled away for the win. The rest of the season didn't go quite as well, but we still managed to scratch out a .500 season.
Brad's first Varsity game in 2012
I'm not sure who was more nervous when Brad started the season opener as a junior due to a couple of injuries on the team. He responded with 104 yards receiving, a touchdown, an interception and a completed pass for a 2-pt conversion.  It was a pretty impressive showing for his first game at the varsity level.
Brad's last game at Camarillo in 2013 (finishing where it started)
While Rio Mesa got manhandled by Camarillo, Brad came alive in the fourth quarter to help lead the team to their own only score. He caught multiple passes and took an end round for a big gain during the drive. It made for a fitting end to his high school football career.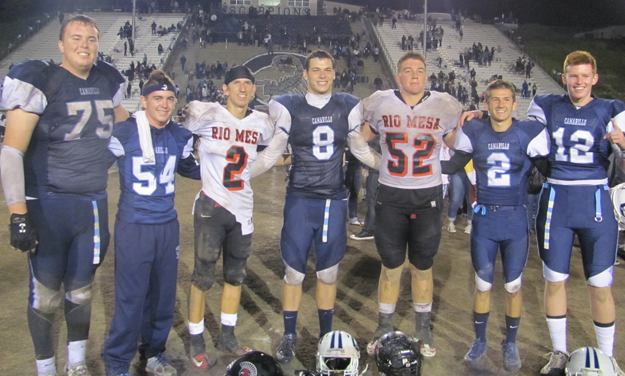 While it'll be great to have plenty of extra time during the late summer and fall, there are some things that I will miss about coaching:
Bonding with the coaches
You develop a special friendship with the other coaches when you're working together every day, particularly on game day. There are a lot of great people I've met during coaching that I'll miss hanging out with in the fall.
Bonding with the players
I coached not because I loved the game, but because I loved working with and teaching the kids how to be the best they could be, both on and off the field. As with coaches, it allows you to develop a special bond with the kids, one that still exists when I see former players around town or on the high school campus.
Analyzing the strategy of the game
I didn't particularly enjoy the practices, but I enjoyed preparing for them. Breaking down film and looking for tendencies that you could exploit was fun, especially when you identified that weakness that would propel you to the win. It was especially satisfying when you could identify it during the game and make the necessary adjustments that would result in a win.
Being part of the game on Friday nights
Being on the sideline for youth and freshman games is one thing, but being on the field under the Friday night lights raises the experience to an entirely different level. I can still remember being on the field for the 2011 Rio Mesa – Camarillo game at Camarillo High School. The stands on both sides were full, and it literally came down to the final play of the game. While Rio Mesa failed to score to win the game, the energy and excitement of that final play is another moment that will be etched in my memory forever.
Spending Friday nights on the field
Getting to be on the sidelines on Friday nights allows you to see the game in an entirely different manner than sitting in the stands. It's easy to second guess when you're in the stands. Being on the field puts things in perspectives because there's a lot of things like player attitudes and momentum that you can't gauge away from the field. It will definitely make the games a lot less interesting next year.
Well, it's been a great 10 years – 10 years that I wouldn't trade for anything in the world. The friendships forged with the coaches and bonds built with the players are something that will last the rest of my life. Above all, it was worth it to be there on the sidelines with my boy for every one of his youth and high school football games. More than all of the other experiences I had coaching football, that's the one that will always mean the most to me.