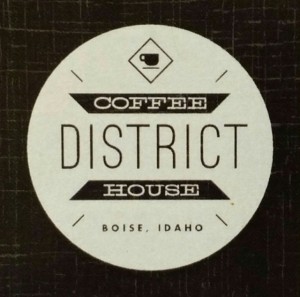 On a recent business trip, I arrived in Boise on Monday close to midnight.  After a short shuttle trip to my hotel, I figured I should check out my breakfast options before getting into bed. Given my newly formed dependency on coffee, the usual routine would send me to Google Maps to find the nearest Starbucks where I could work while enjoying a cup of coffee and oatmeal. This time around, I wanted to do something different. I decided to try a local coffee shop in the city.
A Google search for "best coffee in Boise" turned up a few places which led to checking out reviews on Yelp. I settled on District Coffee House. It had a few things going for it – It was less than 15 minutes by foot from my hotel, had Wi-fi, plenty of seating, and their online presence exuded a good vibe. I figured it was worth a shot.
Upon entering, the first thing I noticed was how simple their menu was. You could order fresh coffee brewed by French press or pour over method, espresso, macchiato, cappuccino, latte, and americano. You could also get your coffee over ice, but I didn't notice a blender. Something tells me you don't need a blender to make a traditional coffee drink despite what some other places may lead you to believe. I've been learning from my more experienced coffee-drinking friends that you can tell a lot about a place by the menu and the equipment behind the counter. At first glance, this place looked legit.
They were offering three different varieties of coffee, and I chose to have a pour over Sulawesi. It took a few minutes longer than getting a simple drip from a pre-brewed pot, but it was worth it. It reaffirmed my belief that coffee made with good beans and water makes a big difference. In my opinion, even if you're drinking coffee for functional reasons, there's no reason why you shouldn't enjoy it while you drink it.
So with the last trip, my transformation from reluctant coffee drinker to coffee aficionado (or snob depending on your point of view) is officially complete. What started as a simple dependency drinking watered down K-cups from the office coffee maker has evolved into grinding my own beans, experimenting with different coffee-making methods and hunting down good local coffee shops while traveling.
Searching out good coffee is something I never thought I would do, but it's become an enjoyable experience. It's fun, and it's great to be able to share the good places you've found with others. It's like finding that great, inexpensive wine that you can't wait to tell everyone about. Drinking good wine is an experience best shared among friends, and the same goes for good coffee.
So if you ever end up in Boise, check out District Coffee House on 10th Street – it's worth it.