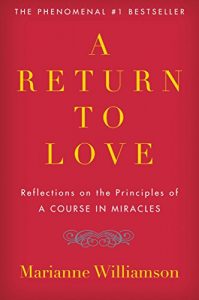 Personal development books are one of my primary reading genres. Since I've started down this path a few years back, I've discovered a seemingly limitless number of books and related resources. Some have come through the Amazon recommendation engine. Many others have come through discussions with friends and colleagues about the books we've read. At the end of the day, it's amazing how many great resources are available to us these days.
The best of these resources are books that provide both guidance on better living and challenge our thinking, whether it is about ourselves or the world around us. A Return to Love: Reflections on the Principles of A Course in Miracles by Marianne Williamson clearly fits and definitely belongs in this category. 
A Return to Love is a deeply spiritual book. It will both challenge your views of spirituality and help you understand it better. As one who has struggled to understand the concept of spirituality, how it works, and where it fits into my life, Williamson's description of her personal experiences helped me to understand and clarify my own views. Most important, it helped me recognize that spirituality is not something that we fit into our lives. Spirituality is around us and within us at all times. It is we, ourselves, who choose to ignore and suppress it. Therefore, it is up to us to make the decision, the choice, to accept it. Until we make that choice, we close off our mind and our body to the gifts of spirituality that exist around and within us.
A Return to Love is not a book for the faint of heart. You need to be willing to challenge yourself and approach it with an open mind to accept it. It will force a lot of introspection. It will cause you to examine your views of spirituality, relationships with loved ones and friends, interactions with others, work, and perceptions of the world.
I would highly recommend it to anyone who is serious about their personal development. However, given the depth of the subject matter, I would recommend reading a few other foundational development books first. Books that fit this category include 7 Habits of Highly Effective People, The Slight Edge, Psycho-Cybernetics, The Power of Positive Thinking, Happier, and The Happiness Advantage. These will prepare you to approach Williamson's writings (and teachings) with the proper frame of mind.
A Return to Love has had a profound impact on how I view life and spirituality. It challenged and stretched me. It also reinforced for me how our mind needs to be trained and fed on a daily basis if we want to truly effect positive change in our life, and in the lives of those around us. I would encourage you to read A Return to Love and would hope that it has the same positive impact on you as it has had on me.