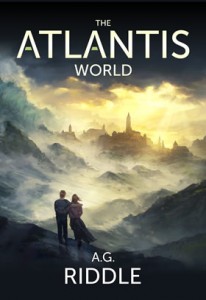 Earlier this year, I decided to subscribe to Amazon's Science Fiction & Fantasy Newsletter to stay abreast of new releases and to pick up some new reading material. I don't know why, as Amazon's recommendation engine has done a fine job of filling my reading list to nearly 100 titles at this point. Anyways, my subscription paid off when I saw The Atlantis World by A.G. Riddle show up as a new release. Since I thoroughly enjoyed the first two books in The Origin Mystery Trilogy (reviews here and here), The Atlantis World immediately jumped to the top of my reading queue. In fact, it was tough not setting aside my current reading and starting this one immediately!
Thankfully, Riddle didn't disappoint. For me, the book lived up to my expectations and did a great job bringing the series to a conclusion. The same cast of characters from the first two books are present – David Vale, Dr. Kate Warner, Dorian Sloane, Ares (the Atlantean General), and Milo. Riddle also introduces a couple of new characters who play a somewhat secondary role in the outcome of the story.
The primary story line of the third book is for Kate and Dorian to understand their Atlantean roots and to save humanity from regression or possible extinction. Riddle uses a lot of flashback sequences throughout the book which helps to fill in holes from the first two books as he takes the story through to its conclusion. While the first two books had more near-term, "hard" science fiction in them, the third book moves into the realm of "soft" science fiction. A lot of the book takes place off of planet Earth, which involved a lot of space/time travel and made for an interesting ending.
As with the first two books, I had a hard time putting the third installment of the Trilogy down. I easily mowed through the book over a two day period. While some of the new characters were very thinly developed and somewhat unnecessary, it didn't take anything away from the book or the series for me.
The Atlantis World could be read stand-alone thanks to background explanations, but I wouldn't recommend it. You will want to read the first two books before digging into this one, starting with The Atlantis Gene. In fact, I almost wish I had discovered these books after The Atlantis World was finished. It would have saved me the agony of waiting between books for the author to complete the writing.
I would enthusiastically and highly recommend the entire series and have place it in my list of must reads. I'm curious as to how Riddle plans to follow-up on his debut work. It's going to be a tough act to top!