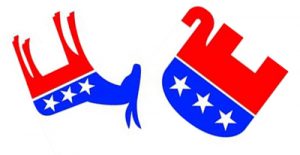 The 1992 election was the first presidential election that I voted in. That makes the 2016 election my seventh presidential election and, by far, the worst of the lot. A process that uses a system of primaries to narrow the field of candidates down to the two who are deemed most fit to serve as the President has failed us.
Before I continue, this post is not about any one candidate, as both candidates this year had their flaws. It is about the system. The system that we've put our faith in. The system that is supposed to put forward the two most highly qualified candidates for us to choose between.
How has the two party system failed us?